NI boss Michael O'Neill dismisses likelihood of call-ups
By Damien Edgar
BBC Sport NI
Last updated on .From the section Football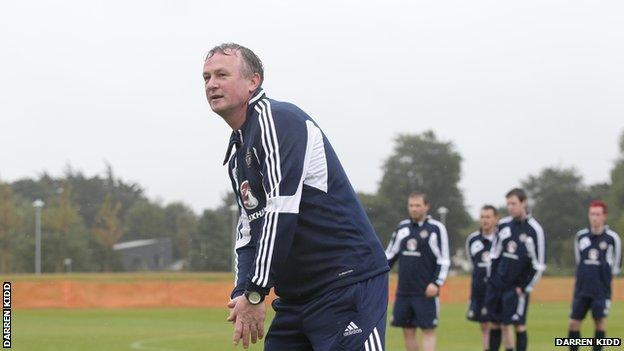 "Today you're going to get to see how much easier it is to write about the game than it is to play it."
Michael O'Neill's light-hearted opening remarks to the invited media representatives would define this specially convened training session.
With representatives from all the major local online, print, television and radio organisations present, the Northern Ireland manager had his work cut out.
The pitch at the newly-developed House of Sport on the Malone Road was in pristine condition - all it needed now was players worthy of gracing it.
In the end though, a compromise was struck and the media took to the field, a brave new world for some, familiar territory for others.
The "players" undertook various drills designed to increase speed, agility, spatial awareness and ball control.
If O'Neill had expected a high standard of football however, he was soon forced to lower his expectations.
The drills were approached with good spirit, as some senior journalists pledged that they would stick to writing about football, but a few crunching tackles brought home the competitive nature of the session.
After the players had found their range, that is, learned to keep the ball within five feet of one another, they moved on to a game of eight-a-side on a half pitch.
The teams were split down the lines of broadcast and print, and the rivalry was intense.
In a game that ebbed and flowed but mostly crashed and tumbled, there were individual moments of brilliance that illuminated the contest.
Unfortunately, as most of those moments came from the participating O'Neill, it's unlikely that any reporters will be crossing the white line as a player anytime soon.
After three gruelling periods and with the score deadlocked at 3-3, the NI boss called for the match to be decided by three penalties apiece.
Both teams got off to great starts and O'Neill blasted his home for the print team, (apparently an erstwhile column in the Mirror qualified him as a player for print), with the last penalty set to decide it.
Up stepped Stephen Looney of Sunday World fame, but UTV's Colm McAlinden was in the zone and dived low to his left to break print hearts.
In scenes reminiscent of Maradona's 2010 World Cup training methods, O'Neill had the losing team perform a forfeit, namely offering up their backsides as target practice for the victors.
Talking after the event, O'Neill reiterated the fun ethos of the event, but was firm in his assertion that it was unlikely a call-up was imminent for any of the participants.
On a more serious note, he outlined his plan for the current NI squad to remain competitive in the upcoming World Cup qualifiers.
The NI boss also revealed that he had been keeping a close eye on the progress of recent Liverpool debutant Ryan McLaughlin.