Rangers: SPL appoint commission to investigate payments
Last updated on .From the section Football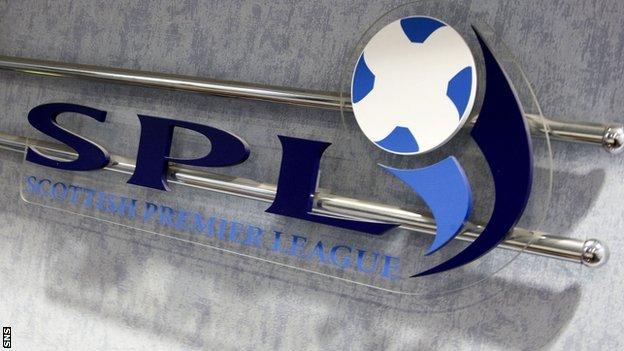 The Scottish Premier League have appointed an independent commission to rule on Rangers' alleged use of employee benefits trusts from 2000-11.
The Ibrox club's use of the scheme was the subject of a tax tribunal, which has yet to deliver a verdict.
EBTs were administered by the company that formerly ran Rangers and is now in the process of being liquidated.
The SPL say the commission will determine whether Rangers acted "in breach of the relevant SPL rules".
And a spokesman added: "In the event that the independent commission decides that such breach or breaches occurred the independent commission will have powers to determine what sanctions, if any, are appropriate."
A BBC documentary, "Rangers, The Men Who Sold The Jerseys", found evidence suggesting that 38 Rangers players had received side-letters giving undertakings to fund their sub-trusts with cash.
Scottish FA rules state that all payments made to players in respect of their earnings from football must be declared and clubs falling foul of those rules could face sanctions from the league.
The SPL launched an investigation on 5 March into the scheme Rangers used in an attempt to reduce their tax bill, with the probe covering the period stretching back to the competition's inception in 1998.
The league instructed lawyers, Glasgow firm Harper Macleod, to investigate the allegations of dual contracts.
Rangers' assets were sold to a group led by Charles Green after The Rangers Football Club plc could not be saved from liquidation.
Green's company, now known as The Rangers Football Club Ltd, have relaunched the club, who have been placed in Scottish Division Three after the SPL rejected an application by Green to take over Rangers' share in the top flight.
And Green said last week: "As we have proved in the last couple of months we will stand up to any challenges that face Rangers and will continue to fight for the club's best interests."