St Mirren manager hopes players are inspired for new campaign
Last updated on .From the section Football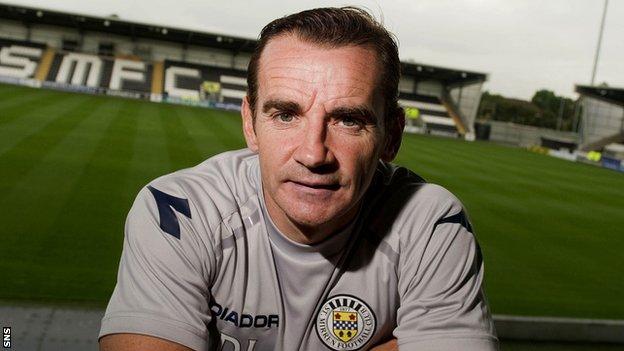 Danny Lennon is urging his St Mirren players to take inspiration from the success of Montpellier and Olympians.
"I took a lot out of Montpellier last season, the French champions who had the 12th lowest budget in the league but won it," said the Buddies boss.
"It just shows that the underdog can have their day if they put in that work and commitment.
"And the Olympics have been absolutely fantastic; everybody's wanting to go out there and be the best."
Lennon believes the London Games have really captured the public's imagination, adding: "You even see the cyclists at the side of the road and they're going that bit harder and I think that is going to rub off on everybody."
The Paisley side begin the new campaign at home to Inverness on Saturday.
"Our preparations have gone fantastically well and we've brought in one or two new faces to the group," continued Lennon.
"Our aim to go out there and try to entertain and win as many football games as we can.
"I think the progress that we've made at this club in the last couple of years has maybe surprised one or two people.
"I know people are saying that they'll be doing well to match that.
"We're looking to do better than that. Although we know it is going to be a huge challenge for us, in terms of the size of budgets, we welcome that challenge.
"We finished above a few clubs with bigger budgets than ourselves last season and the bottom line is that football is played by 11 guys against 11 guys."
The demise of Rangers, and their subsequent relaunch in Division Three has dominated the Scottish sports news over the summer.
And Lennon hopes it is time to move on from a turbulent period.
"It's important now that every club, and us as a nation, get back to what this country is all about," he said. "We are a proud nation, with a proud footballing history.
"It's time for every club to get all their fans to fall back in love with the beautiful game."
Lennon remains in the dark as to whether cash from the new TV deals with Sky and ESPN will allow him to strengthen his squad further before the end of the month.
He added: "We still don't know any concrete figures at this moment in time. Hopefully, there will be clarification on that.
"I'm working on the basis that this is what I have going into the new season so, if anything comes back into play, it's a welcome bonus."