No complacency from Celtic, says manager Neil Lennon
Last updated on .From the section Football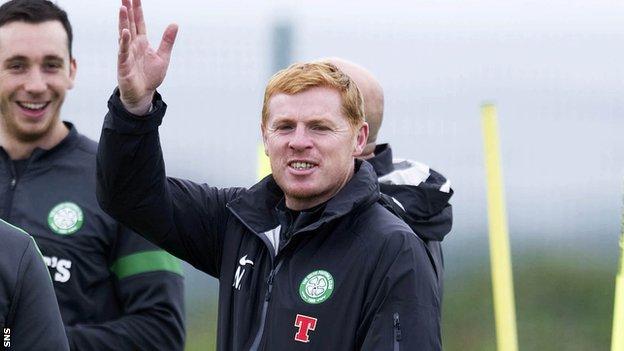 Manager Neil Lennon believes there is no chance of Celtic succumbing to complacency this season.
Celtic are overwhelming favourites to retain the Scottish Premier League title now that Rangers have been re-launched in Division Three
"We pride ourselves on professionalism and the standards we have set over the last couple of years and we want to maintain that," said Lennon.
"We go in as favourites which is something that we are used to."
Hearts boss John McGlynn claimed that the only way Celtic could be threatened would be if the champions took it too easy.
Lennon, speaking ahead of Saturday's SPL opener against Aberdeen at Celtic Park, said: "It might be a fair comment but it is not going to happen.
"We are probably heavier favourites than we have been for a while but we will just concentrate on retaining the title, that is the priority.
"We want to get through the next round in Europe and have a go at European football on top of the domestic league but there will be no complacency, that's for sure.
"We are the champions anyway, so people will want to take points off us. It has been that way since I came here.
"People come to Celtic Park and they want to bust a gut and want to prove they can play at the same level as our players and whether we go home or away fans want to see that scalp being taken.
"We had a great campaign last year, we are looking forward to tomorrow and the symbolic gesture of having the flag unfurled at the stadium which is always a nice occasion for everyone involved and then we get cracking."
Celtic won last season's title by a 20-point margin from Rangers, who were deducted 10 points for entering administration, and were 31 points clear of Motherwell in third place.
"We did lose to teams other than Rangers last season, we lost to Hearts, Dundee United and Kilmarnock took points off us," added Lennon.
"So the competitive games have not been exclusive to Rangers.
"The majority of the games last season were competitive."