No side contract at Rangers - Billy Dodds
Last updated on .From the section Football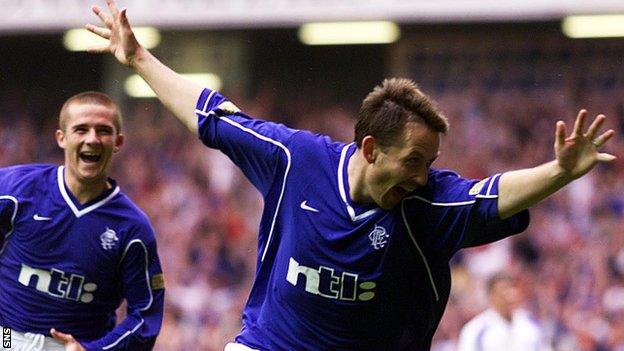 Billy Dodds insists he never had a side contract during his Rangers days and was not aware of any others doing so.
The former striker was paid using an employment benefit trust but told BBC Scotland that it was a one-off method of terminating his deal.
The Scottish Premier League has now appointed an independent commission to rule on Rangers' use of EBTs.
On the possibility of titles being stripped retrospectively, Dodds said: "For me, absolutely, no."
The SPL say the commission will determine whether Rangers acted "in breach of the relevant SPL rules".
A spokesman for the league added: "In the event that the independent commission decides that such breach or breaches occurred the independent commission will have powers to determine what sanctions, if any, are appropriate."
The Ibrox club's use of the scheme was the subject of a tax tribunal, which has yet to deliver a verdict.
EBTs were administered by the company that formerly ran Rangers during the first decade of this century.
And a BBC documentary, "Rangers, The Men Who Sold The Jerseys", found evidence suggesting 38 Rangers players had received side-letters giving undertakings to fund their sub-trusts with cash.
Scottish FA rules state that all payments made to players in respect of their earnings from football must be declared.
Dodds left Rangers for a second spell with Dundee United in 2003.
"I was due a lump sum for leaving Rangers and going to Dundee United; what was left on my contract," Dodds explained.
"I received the exact amount after tax, which was £190,000.
"I left it all to my advisors and I got what I was due. I signed and walked away with my money. That was it. It was just paperwork to me.
"There was no side contract. I got a one-off payment. I didn't have a clue about EBTs at the time.
"I was not aware of any other side contracts. Nobody talks about things like that in the dressing room.
"I know footballers are often deemed thick, but they don't run around telling people how much they earn. It's just a no-no in football.
"My advisors took care of every deal at every club I went to and there were a few!
"They just said it was going through a trust fund.
"Every single footballer would tell you the same thing. When you are due an amount of money, after tax, when you get that you are happy."
Manager Ally McCoist has said Rangers will "never accept" being stripped of any of their titles.
And Dodds, who won one SPL title, one Scottish Cup and one League Cup during his three-year stint at Ibrox, thinks such a decision would be harsh.
"The players went out on the pitch and earned the titles, sweated blood and guts to win them," he said.
"And players who had EBTs at the time did not stop to think twice about it.
"I can see that there was maybe a small advantage for the club but as players and coaches you don't think about it."