Luis Suarez must move on from racism row - Brendan Rodgers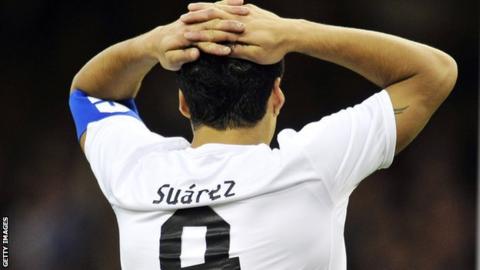 Liverpool manager Brendan Rodgers says Luis Suarez has to "move on" from last season's racism controversy, however difficult the striker may find it.
Suarez was banned for eight games after being found gulity of racially abusing Manchester United's Patrice Evra.
Rodgers said: "Luis probably still feels a little bit of injustice about last season, but for me the message is that we have to move on.
"We have to move forward. Let's let it go now, however hard it is."
The incident dominated Liverpool's season, with Suarez refusing to shake hands with Evra before the 2-1 defeat by United in February, and then questioning the "political power" Manchester United have in English football.
Manchester United boss Sir Alex Ferguson claimed Kenny Dalglish's handling of the episode cost the Anfield legend his job as manager.
Rodgers, who left Swansea City to replace Dalglish in the summer, accepts Suarez is likely to continue to be criticised for the Evra incident when he returns to action.
There were signs that British football supporters are not going to let the striker forget last season when he - and the Uruguayan national anthem - were booed during an Olympic match at the Millennium Stadium.
Suarez described the booing as a "lack of respect", but Rodgers said: "The first point is that opposition fans only give people stick because they're good players - you don't see bad ones getting it."
Suarez's participation in the Olympics came to an end with Uruguay's defeat by Team GB.
Rodgers is looking forward to welcoming the 25-year-old back into the fold with the Reds' season having already begun with Thursday's 1-0 victory over FC Gomel in the first leg of their Europa League third qualifying round clash.
"It will be fantastic to have Luis coming back, and he is already fighting fit," said Rodgers.
"He will have a couple of days off and join up with us after the weekend. I'm really looking forward to working with him.
"He's been playing games, so he will already be up to a decent level of fitness, maybe even higher really, because he's had more competitive games."