County tip hat to towering Tokely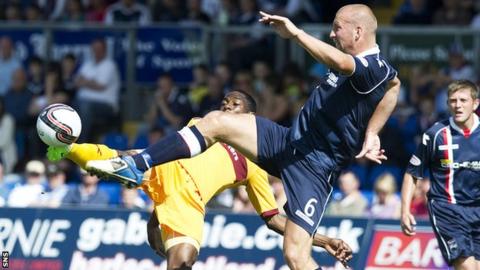 It is often difficult for a player to settle in at a club after the switch from a local rival.
And, when you have spent 16 years with the bitter footballing enemy, the new set of fans are unlikely to start chanting your name any time soon.
But Ross Tokely must have gone a long way to thawing even the frostiest of Ross County hearts with a towering man-of-the-match display in the 0-0 draw with Motherwell.
Playing at right-back, the 33-year-old was in imperious form, getting his bald and battered head to every ball that came his way.
The veteran even found time for the odd foray forward.
Tokely was Mr Inverness Caley Thistle, having played for and scored in every senior division for the Highland's capital club.
And he is aware that not every Staggies supporter is entirely happy to see him at Victoria Park.
"I've got a wee bit to go yet," he said. "It's never nice to get booed when your name is announced, but they are in their right.
"Today was just a little block in the road for the season ahead for me."
County's first taste of the Scottish Premier League may have been a rather drab stalemate, but there was much to encourage Tokely.
"We performed out our skins to keep Motherwell at bay," he enthused.
"To put in a performance like that against a very good side, I thought everybody played their part.
"I can remember a few days when the championship flag was raised turning into damp squibs.
"But I thought the boys were tremendous.
"Most have got not a lot to prove but have wee chips on their shoulders.
"There is a great team spirit and everyone backs each other up. If somebody is struggling, someone comes over and takes care of it.
"Everyone knows their role in the team and that's testimony to the manager and the work we have done in the close season.
"Every player in the team already has some experience of the SPL - and they were all champing at the bit to get back in."
Of course, Tokely is not the first player to make the move from the Caledonian Stadium to Victoria Park.
He has been reunited with his old defensive partner Grant Munro, who made more than 350 appearances for Inverness.
"It was great to be back battling with Granty," said Tokely. "He's such a tremendous character.
"He was a rock at the back with big Scott Boyd."
Tokely was also quick to praise the work of manager Derek Adams and the board of the Dingwall club, who were elevated to the senior ranks along with Inverness in 1994.
"People at the club have taken a chance and shown faith in me," he added.
"Once I'd made the decision to leave Inverness, they made a real effort to get me and I have to repay that with performances on the park.
"I'm not just here to see my career out, that's not my mentality to just mess about - it's a new challenge for me.
"To get man-of-the-match is extra special for me and I had a wee smile to myself. It was overwhelming really."
Here's hoping most of those churlish enough to jeer Tokely before such an overt demonstration of his commitment to the County cause were able to crack a grin at their own folly. Well, maybe half a smile.