Blackburn's game against NEC Nijmegen off after 'riots'
Last updated on .From the section Football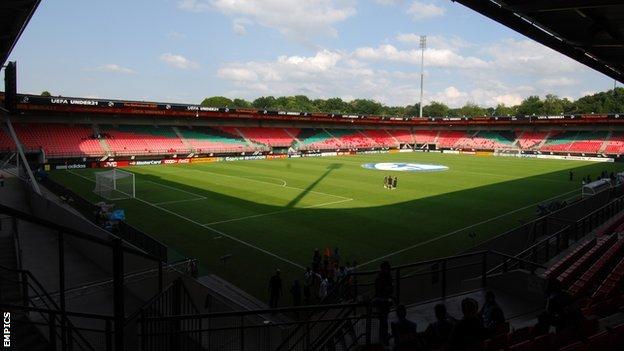 Blackburn's pre-season friendly with Dutch club NEC Nijmegen on Sunday afternoon has been cancelled because of the threat of fan violence.
The decision came after claims that Rovers fans had been involved in disturbances with rival supporters.
A statement on the Dutch Police website www.politie.nl said: "Supporters of Blackburn Rovers were involved in rioting in Deventer on Friday.
"On Saturday there was a confrontation with supporters of NEC Nijmegen."
The statement added: "The deputy mayor of Nijmegen has decided to cancel the exhibition game between NEC and Blackburn Rovers. That match was due to be played today at 2.30pm during the annual open day of NEC.
"On the basis of serious signals to the police that a confrontation would take place again today, deputy mayor Henk Beerten, in consultation with police, judiciary and mayor Hubert Bruls, decided to cancel the match this afternoon.
"Today, 8,000 visitors are expected at the open day of NEC which starts at 12.30pm, including many families with children.
"With the serious threat of unrest in the Goffertpark around the exhibition game, it is not sensible to play this game today."
Blackburn issued a statement on their website, which read: "Both clubs wish to express their disappointment that such a decision has been necessary."
The match with NEC Nijmegen was meant to be Blackburn's second game in three days in Holland after they had lost 4-2 against Go Ahead Eagles in another friendly on Friday.