Guernsey FC start their season with an 8-0 win over Croydon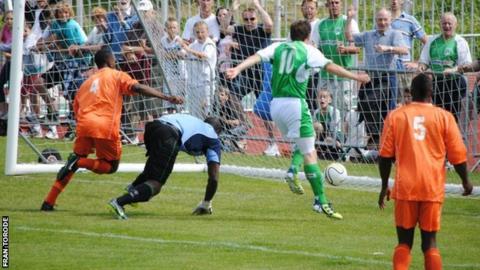 Guernsey began their inaugural Combined Counties Premier Division season with an 8-0 win over Croydon at Footes Lane.
Despite Croydon having early chances, Dave Rihoy gave the hosts the lead and Ross Allen headed in for 2-0.
Captain Sam Cochrane then turned in a Ryan-Zico Black corner, before an Allen penalty and Jason Winch strike took the hosts into a five-goal lead.
Matt Loaring grabbed the sixth, before Allen completed the scoring with two more well-taken goals.
Guernsey head coach Tony Vance told BBC Guernsey: "It's all about building momentum and we've won our first game at home comfortably.
"Most looking on would think we must have had a cracking game. But in the first half, it was very tight, believe it or not.
"We weren't quite on the pace for the first half hour but once we got the fourth just after half-time, it became a little easier."
But, despite the margin of victory, Vance urged caution as his side look to build on this result.
"Victories like that can build up confidence and teams against you will be nervous of coming to play you, so it's positive for us," he said.
"But ultimately it's not a smokescreen, we know what's capable of us and what we need to do to win this league, we have to be on our game every single match."