Harry Redknapp tips AFC Bournemouth for glory
Last updated on .From the section Football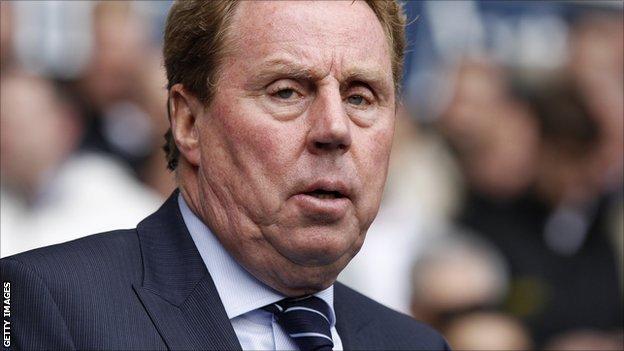 Former Bournemouth boss Harry Redknapp believes his old side can win promotion to the Championship this season.
The Cherries have invested heavily on and off the pitch during the summer and Redknapp says he has been impressed.
Redknapp, 65, managed the Cherries between 1983 and 1992 and led them to the old Third Division title.
"They've got a good chance, this could be their year to win promotion. It would be great if they could," Redknapp told BBC Radio Solent.
Redknapp officially opened the club's new training ground on Saturday, adjacent to their Dean Court stadium in Kings Park.
The facilities at the club are in stark contrast to his time in charge of the League One side, and Redknapp paid tribute to chairman Eddie Mitchell.
"It's fantastic for the club to have a new training ground," added Redknapp.
"I was telling a story earlier of when we beat Man Utd 2-0 in the FA Cup.
"On the Monday after we came down to train on the council's all weather pitch and were having a lovely nine-a-side game when the park keeper came down on his bike and put the padlock on the great gate.
"There was a 30-foot fence that we had to climb over and I was wobbling at the top trying to get my leg over. Those were the days, we trained in the park, got chased off the park. We had nowhere to train.
"You've got to give Eddie a lot of credit for what he has done here."
Redknapp also praised manager Paul Groves - saying Bournemouth have the right man in charge of the side.
"The stadium looks fantastic now, the team looks good and the manager Paul Groves I know well from my time at Portsmouth.
"He'll do well, he's a smashing lad and will be a great manager, the club are in good hands.
"Dennis Rofe has joined them also and he is a great coach as is Shaun Brooks."
Redknapp is currently out of a job, having left Tottenham in June, and says a return to management is not imminent.
"I'm OK, I've been playing lots of golf, which is getting worse," he said.
"There is no rush for me to get back into it.
"I'm not chasing clubs, I'm just looking forward to coming down here and watching Bournemouth next season."