Yeovil Town go shirtless in a bid to find a sponsor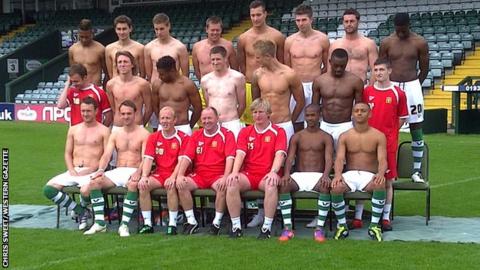 Yeovil Town players have appeared topless in their team photo in order to attract sponsorship.
The Glovers have not yet been able to secure a shirt sponsor for the 2012-13 campaign after last season's investors decided against renewing their deal.
Manager Gary Johnson came up with the idea and convinced the players to get involved with the stunt.
"If we haven't got a shirt sponsor then we can't wear the shirt," Johnson told BBC Somerset.
"There's been a lot of interest but we need to make sure they are paying the right sort of money to be on our shirts. It is a little bit tongue-in-cheek and it was my idea for the staff to keep their shirts on."
Johnson will have a new-look side going in to the forthcoming League One season, with nine players arriving over the summer.
New striker Reuben Reid said: "I've never experienced anything like that before. It was interesting and it was was quite funny for the lads.
"When it got mentioned, a lot of the lads ran straight in to the gym to get on the bench-press. It was a funny time."