Aldershot Town winger Alex Rodman back after blood clots
Last updated on .From the section Football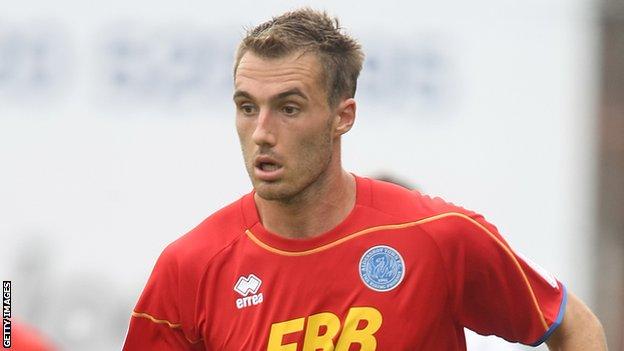 The rigours of pre-season training are dreaded by most footballers but for Aldershot Town winger Alex Rodman they came as a welcome return.
The 25-year-old missed the second half of last season after blood clots were discovered on his lungs in January.
"I've never looked forward to a pre-season more in my life given what happened," Rodman told BBC Surrey.
"Every day is a blessing really. Coming back to training has been fantastic.
He added: "It's quite a serious condition, because you can die from it. It cuts off the blood flow and circulation to your lungs and can stop you breathing.
"I didn't really realise the seriousness of it until I was in hospital and they explained the ins and outs of it because I felt absolutely fine in myself.
"It's one of the most random things that's ever happened to me.
"Most of the time they don't diagnose it until they're doing the autopsy so I was lucky to have the people around me who were able to pick it up."
Things could have been much worse for the former Tamworth man as the condition - which has also affected women's tennis star Serena Williams - was not initially diagnosed.
"After the Gillingham game, I had a virus for a week so I was off training," Rodman said.
"I came in for a fitness test on the Saturday and passed it but every time I increased my sprinting, I had chest pains.
"The gaffer [Dean Holdsworth] and the fitness coach took the decision to give the next game a miss and rest up.
"I came in on the Monday and coughed up some blood. The club doctor [Imran Khan] sent me to A & E, where they told me I had pericarditis [inflammation around the heart].
"Thankfully the club doctor sent me to a heart specialist in London for a second opinion.
"Because I was so fit and healthy even he put his mortgage on the fact nothing would be wrong with me so it turned out to be a big surprise to everyone.
"I'm glad to put it all behind me and I'm just grateful for everybody who was there to support me and I'm thankful the club doctor did everything he did."