Tal Ben Haim angry at Portsmouth administrators PKF
Last updated on .From the section Football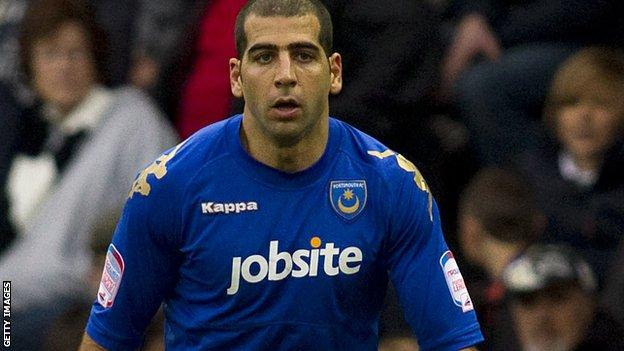 Portsmouth defender Tal Ben Haim says administrators PKF will be to blame if the club are liquidated on Friday.
Just Ben Haim, on wages of £36,000 a week, and midfielder Liam Lawrence remain, but the Israeli says if the club close down it is not their fault.
"The blood is very much on their (PKF) hands," said Ben Haim.
Former owner Balram Chainrai and the Pompey Supporters Trust are vying for control of the club, but will only bring Portsmouth out of liquidation via a company voluntary arrangement once the wage bill is cleared.
Administrators have set the 10 August deadline for this to happen but time is now running out and Birch has urged Ben Haim to follow the example of his former team-mates and accept a compromise.
"Many of his former team-mates were in the same situation yet made big sacrifices and showed that the club is more important than any individual," Birch told BBC Sport.
"Many non-football creditors, some small local businesses, have also told me that they'd be willing to take a personal financial hit in order to keep the club going."
Ben Haim says he is prepared to come to a compromise, but will not be bullied into a deal.
"I signed a four-year contract with Portsmouth in 2009," said Ben Haim.
"Since then, because of the club's failure to manage its finances on no less than two occasions I have personally lost a figure in excess of £2m. I currently have approximately one year left on my contract.
"I want this club to survive and I will do everything possible to enable this historic club to continue to play football in the Football League."
He added: "Since February 2012, when PKF were appointed, the only thing we have heard is that it is more likely than not that they are going to have to liquidate the club.
"This approach has destroyed the team spirit and led to the club being relegated from a position and with a squad everybody expected to stay in the Championship.
"Also this talk of liquidation has done nothing but destroy any interest from any other party, other than Mr Chainrai, to buy the club. What a ridiculous position."
Ben Haim says that despite Pompey's perilous position, only recently have the administrators started talking to the players.
"Most of the negotiations were done through the media," he added.
"When they actually sat and talked to us through the manager, the majority of the players moved quickly to do what was best for the club and themselves.
"As far as I'm concerned, an offer has been made to me only recently. I have offered to waive a further £1.5m of my current contract. They now tell me this is not good enough.
"The fact is that we are only about £300,000 apart in negotiations. If they want to liquidate the club for that money while they still charge their huge fees then all I can say is that the blood is very much on their hands."
Birch countered: "I understand why nobody wants to lose money - whether they are players or the club's other creditors. Tal Ben Haim is not alone here.
"There's the pain felt by the club's employees who lost their jobs or took pay cuts earlier in the year.
"If we all keep that in mind over the next couple of days then there is hope that the club may survive."