Nemanja Vidic: Manchester United failures will lead to success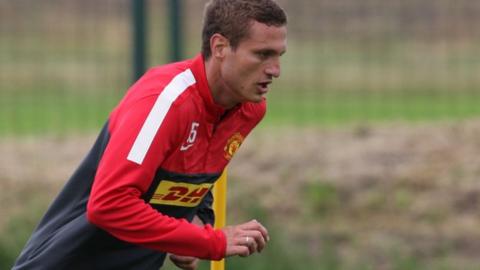 Nemanja Vidic believes Manchester United's failures last season will make them a better team this time round.
United went out of Europe at the group stage and lost the Premier League title on goal difference to Manchester City.
"We had some young players play a lot of games last season and they'll have learned a lot - we all learned," said Vidic, fit again after a knee injury.
"In Europe we've had success in recent years - we've had three finals, a semi-final - and maybe we relaxed a bit."
United skipper Vidic, who returned to action in Sunday's goalless draw with Norwegian outfit Valerenga after eight months out, is confident United will be stronger.
He said: "We were punished and we can't allow that to happen again. We had a few injuries last season too. I hope everyone can stay fit this season.
"The young players can learn from last year, so I'm confident we'll be better this year."
Sir Alex Ferguson's side now move on to a high-profile encounter with Barcelona in Gothenburg on Wednesday ahead of the season-opener with Everton on 20 August.
Speaking to manutd.com, Vidic added: "For me, it was really good to have 60 minutes in Oslo. Hopefully I'll play even longer against Barcelona and I should be fit for the beginning of the season."
Defender Jonny Evans has resumed light training after undergoing an ankle operation and could be available for the trip to Everton.
Assistant manager Mike Phelan said: "We hope he'll be available for the start of the season. He won't have had the games under his belt but, if he's fit and progressing well, we'll push him forward.
"At the moment, Chris Smalling is going to be a bit longer in his recovery. He's had a setback, an injury, and he's progressing slowly."
United team-mate Wayne Rooney is pleased with the state of his fitness after his first run-out against Valerenga.
Rooney added: "I'm happy with how I'm doing. Everybody needs games to get up to match fitness, not just me. I'm training well, though, and I'm looking forward to the next few games. Hopefully, by the start of the season, I'll be ready to play."
Ferguson returns to manage the squad for the game after missing the match with Valerenga on other club business.
Patrice Evra has also rejoined the squad after the birth of their second child.