Dele Adebola joins Rochdale after Reece Gray injury
Last updated on .From the section Football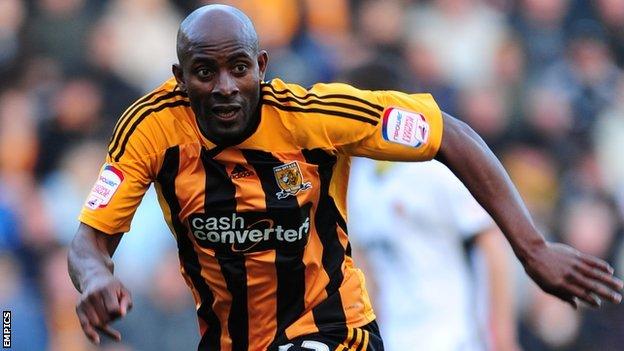 Rochdale have signed veteran Dele Adebola on a one-year deal after fellow forward Reece Gray was ruled out until the new year with a serious injury.
Adebola, 37, moves to Spotland after a year at Hull City, although he ended last season on loan at Notts County.
The striker, who had been on trial with Burton, has scored 160 goals for 11 clubs in a 19-year professional career.
His joins after Gray, 19, suffered a dislocated ankle and a fractured tibula in a friendly with Liverpool.
Gray also snapped his medial ligament during Sunday's behind-closed-doors match, with the severity of the injury causing the pre-season encounter to be abandoned.
Liverpool players Charlie Adam and Jose Enrique were among those to offer their support to Gray on Twitter.
Gray himself tweeted: "Just like to reassure everyone that it was not Charlie Adam or any other player that caused my injury, was just a freak accident."
He is set to have an operation later this week.