Zamalek cannot cope without Egyptian league - Omotoyossi
Last updated on .From the section Football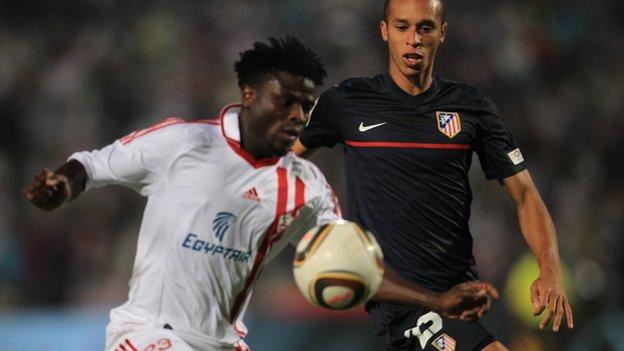 Zamalek are unable to deal with the demands of African Champions League football because of the situation in Egypt, says striker Razak Omotoyossi.
Omotoyossi's side lost 2-0 at TP Mazembe in a Group B match at the weekend and he told BBC Sport: "Having no league in Egypt is a disaster, we can't prepare for the Champions League.
"It is difficult for us to have only friendlies. It is a big problem.
"All the Egyptian sides are being affected. It is not Zamalek alone."
All domestic football has been banned in Egypt since the tragedy at Port Said in February when more than 70 fans died at a match between Al Masry and Al Ahly.
Since then the only matches played in Egypt have been qualifiers for the Africa Cup of Nations and World Cup, and African Champions League matches - all of which have been played behind behind closed doors.
Omotoyossi says the situation is severely damaging Egyptian football, and it is clear that Zamalek's performances in the continent's premier club competition are suffering.
They have lost all three of their Group B matches - beaten 3-2 by Berekum Chelsea and 1-0 by Al Ahly as well as their loss to TP Mazembe - and are rooted to the bottom of the table.
Zamalek have a chance to avenge each of those defeats in their remaining three group matches but Benin international Omotoyossi admitted: "We cannot prepare for the Champions League because we are not playing week in and week out.
"The players are trying to do their best. But we are being affected, mentally and physically, and we cannot be in out best form.
"All the players in Egypt must be given credit - they are taking a big risk. I have been training with international sides just to stay fit.
"You can see that Al Ahly are also being affected. Although they have won their matches so far they are not finding it at all easy."
The 26-year-old also gave an honest assessment of his future, saying that he has been seeking a move but wants to negotiate a deal that has everyone's best interests in mind.
"I want a transfer but I know the club and the fans don't want me to move," he said. "I am trying to do something for the best, to explain to the club and the fans why I am going. I hope to make the move as easy as possible - and to make sure no-one feels bad or guilty.
"In the meantime, I really hope we can win the last few matches for Zamalek in the Champions League and finish with nine points. Maybe we can qualify, although I realise that the chances are very slim.
"The players want to show the fans we love the team and that we have always been there for them. I hope the fans can also think about us, about what the players need for their happiness and their future.
"Hopefully the Egyptian government can also listen and do whatever is need to get the league started again. The problem is that we don't know if Egypt will be in the Champions League next season.
"I do not know how long it will take to put things right. But I am sure that everyone in Egypt loves football."