Stoke defender Robert Huth explains meningitis scare
Last updated on .From the section Football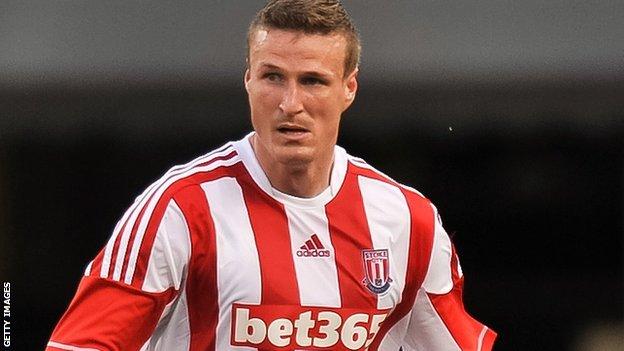 Stoke's Robert Huth has explained how he recovered from meningitis to play 90 minutes in Saturday's 1-1 draw at Reading just a week later.
The 28-year-old spent four nights in hospital with the milder viral form of the illness but recovered in time for his side's first match of the season.
"I've only trained twice since I came out of hospital, so I am pleased to get through the whole match," he said.
"I don't know much about it, but I know it can kill you in the worst cases."
Huth believes he contracted the disease during Stoke's pre-season tour to the United States.
"I didn't feel particularly great while we were out there," he explained.
"On the flight going home, I could feel it getting worse and worse - and 35,000ft up in the sky is not a great place to be when your health is going downhill rapidly.
"When we got home it wasn't getting any better and when I had a stinking headache and became highly sensitive to light, the club booked me into hospital for tests."
The German is the second high-profile Premier League player to contract meningitis recently, with Chelsea striker Daniel Sturridge having also made a swift recovery.
"It's strange how two Premier League players have contracted it this summer because you can't physically pass it on and nobody seems to know for sure how you catch it," Huth added.
"I just thought I had jetlag after flying home from the States. It turned out to be meningitis.
"The club's medical staff reacted decisively and the doctors in hospital were great. I spent most of the time asleep on drip feeds and wired up to equipment and, after three days, I began to feel better."