Norwich City boss Chris Hughton seeks more 'greed' from strikers
Last updated on .From the section Football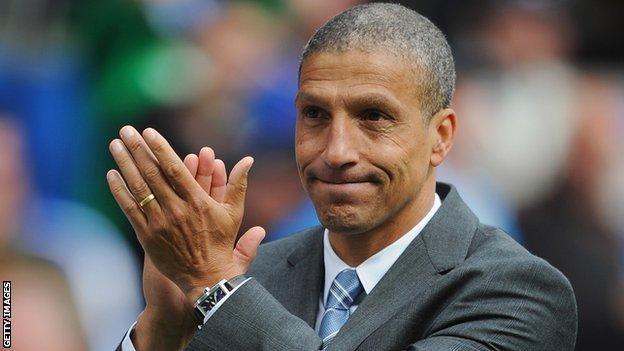 Norwich City manager Chris Hughton has urged his team to be "more greedy" in front of goal with only one pre-season game left.
"An area we'd like to improve on over this pre-season period is our goals tally," he told BBC Radio Norfolk.
"We looked very solid as a unit, got into some good areas but it would have been nice to see a couple of goals."
However, Hughton insisted he was unconcerned as the players had proved they could score in the Premier League last season, when they finished 12th under previous boss Paul Lambert.
"It's perhaps just being a little bit more decisive, making that clinical pass, and being a little bit more greedy in front of goal," he said.
Norwich conclude their pre-season build-up with a match against German side Borussia Moenchengladbach on Saturday.
"You want to go into that game making sure you show some of the qualities you'd like to take into the season.
"But I've been involved in so many games before the season starts when things have gone right or they haven't gone right - it's a bit of a barometer of where you are but some will hit the ground running on that first day, some will take a few weeks to get into their stride.
"It's not just about that first day, it's about the next game and the next game and the next game and being able to put some sort of consistency together," said Hughton.
He is continuing to explore options for strengthening his squad but hinted that increasing his attacking options was not a top priority.
"We've got a lot of forwards, a lot of strikers, but possibly there are areas where if had one or two injuries, then we'd be struggling a little bit," he added.
"It's an ongoing process and if we're able to strengthen, great, but if not, we've got a group of lads here that have fared very well at this club."