Ex-firefighter Rhys Griffiths ready for Plymouth Argyle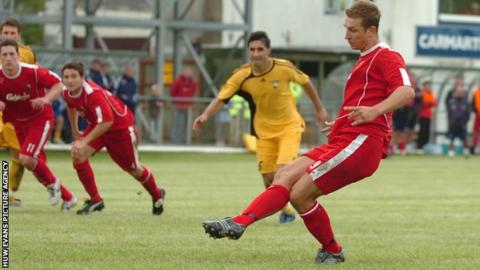 Former firefighter Rhys Griffiths feels he can step up to the professional game after moving to Plymouth Argyle.
The 32-year-old is the second highest goalscorer in Welsh Premier League history, despite juggling his football career with fire-fighting duties.
"When you've scored as freely as I have over the years, it's hard to imagine not scoring," he told the club website.
"But I'm going to be thinking about doing the best for my team. If I do that, I am sure the goals will come."
The seven times Welsh Premier League Golden Boot winner has joined Argyle from Port Talbot, the club where he won the award for the first time back in 2005.
From there, he signed for Llanelli, and scored 181 goals in 180 games for the Reds over seven years, before re-joining Port Talbot this June.
However, he admits that he felt a move into the professional game would enable him to round off his playing days and has placed his other career on hold to do so.
"For some reason, it dawned on me in the summer that I've never played league football, and I should have.
"Whether it's my fault I haven't, or other people's, I'm not sure. But, all of a sudden, I became aware that if the opportunity came I needed to take it, otherwise it would be too late."
He added: "I have looked after myself over the years and I feel good."
"I think there's more to come than what people have seen so far."