Martin Allen still looking to add to Gillingham squad
Last updated on .From the section Football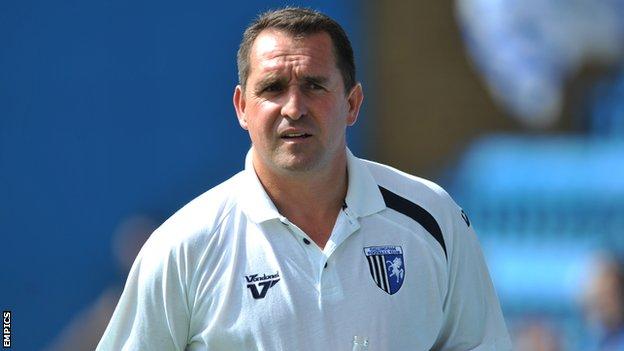 Gillingham manager Martin Allen says he is still aiming to add to his squad.
Allen told BBC Radio Kent: "The signings are not always in our hands. It's difficult because we are trying to get some decent players here.
"Other clubs want them so we're battling against it. The chairman [Paul Scally] has put in good offers and been generous with his money."
He added: "The chairman's offered a lot of money and high wages for players to come to Gillingham.
"His financial commitment is in place to help improve the team and now we'll have to wait and see.
"If those ones don't come we've got another list we'll keep having to look at and keep talking. It's long hours, but it's nothing that scares us."
Meanwhile Allen, who took over at the League Two club last month, has welcomed the arrival of 35-year-old striker Burton, who he worked with while in charge of Brentford.
"I've known Deon for a long, long time and know what's he's about," Allen continued.
"He brings quality, has a very good work ethic and is in great shape.
"We wanted more senior and experienced player and he's the first one. We're still looking at a few others."