Oxford United star Michael Duberry vows to win fitness battle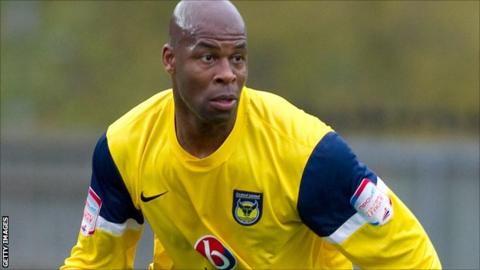 Oxford United defender Michael Duberry admits neck surgery is the only option as he attempts to prolong his career.
The 36-year-old is scheduled to have an operation on Monday and is optimistic it will allow him to return for the U's and end his career on a high.
"I don't want my last game to be Port Vale away," Duberry told BBC Oxford.
"I want my last game to be one where I walk off to applause, celebrating in front of fans who know it is my last game so I get a standing ovation."
Duberry says at first he was against the idea of surgery but his injury is so debilitating he now has no choice.
The former Chelsea defender has lost the feeling in three fingers on his left hand as well as all the strength in his left tricep and bicep.
"I've got no strength at the moment, I couldn't even do a press up because my left arm is so weak," he said.
"I've got discomfort in my shoulder, I've got nothing in me."
Duberry initially saw the specialist in May, and had hoped the injury would heal itself, but it did not and an injection also did not help, resulting in surgery.
He initially thought that would mean he had to retire so said no, but he is determined to battle back to fitness.
"The thought of someone operating on my neck and then playing football afterwards was not for me," he said.
"I said there and then to the specialist if I have to have an operation on my neck at the age of 36 I will have to retire from football.
"But I need it anyway for general life and to get the feeling back. I love football so much and I want to go out on my terms and not because of injury
"I want the fairytale ending that all footballers want. Not being told I've got a slipped disk, need an operation and am not going to play again."
Duberry said he hoped to be back playing in four months, adding: "I'll be like a new 37-year-old signing for Oxford in January hopefully."