Newport County season preview: All change as Edinburgh rebuilds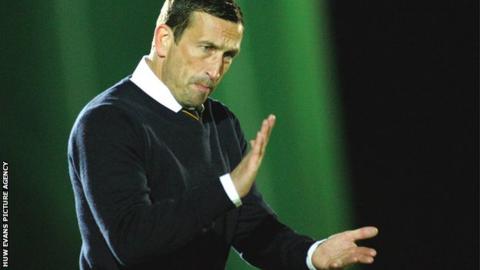 It has been anything but a quiet summer for Newport County.
There was plenty of confident rhetoric after last season's FA Trophy final defeat, with the feeling that 2012-13 could provide County fans with yet another ticket to ride what is fast becoming an Exiles rollercoaster.
And what a few months it has been. The club has left the blancmange-like pitch that was Spytty Park and moved into their new home of Rodney Parade; the chairman Chris Blight stood down; a EuroMillions winner - Les Scadding - who scooped £45.5m in November 2009 has joined the board; while former captain Gary Warren and leading player Sam Foley have upped sticks to join the Scottish Premier and Football League respectively.
Then there is the manager Justin Edinburgh, who has finally been able to put his own stamp on the side.
He worked minor miracles last season, taking over a club in turmoil, saving them from relegation and then leading them to a Wembley final. Those efforts saw him rewarded with a new contract in July which will keep the 42-year-old at the club until the end of the 2013-14 season.
He has cleared the decks and brought in players he knows and more importantly trusts. David Pipe will be the new captain this term who, along with another local lad Mike Flynn, are there to make sure the players give 100%.
Edinburgh has been keen to stress that the better playing surface at Rodney Parade will lead to a better standard of football. The hope is that, along with the new ground, the likes of new strikers Jefferson Louis, Danny Crow and Aaron O'Connor will increase the goal tally.
At the back, Cwmbran-born Tony James has come in to fill the void left by Warren. He needs to form a good partnership with Ismail Yakubu at the heart of defence, while the likes of Andy Sandell and Andrew Hughes will also need to perform well.
At this level mistakes always prove costly and, as a former defender at Spurs, Edinburgh will be looking to make his back four as watertight as possible.
Flynn will hope to boss the middle of the park, while Jake Thompson and Max Porter will provide the support. Watch out too for the young Lee Evans who is a tenacious tackler.
By doing well at their new home of Rodney Parade, County's first target will be to avoid another relegation battle and bounce around in mid table. Their pre-season form has been decent with a win against League Two's Bristol Rovers and a solid draw with the excellent passing talent of Swansea City.
But should the club receive a financial boost from the likes of Les Scadding or other new potential investors then who knows where Edinburgh could lead the Exiles.
Fans might just have to buckle up and ride that rollercoaster once again.