Robin van Persie: Manchester Utd's bid for Arsenal striker stalls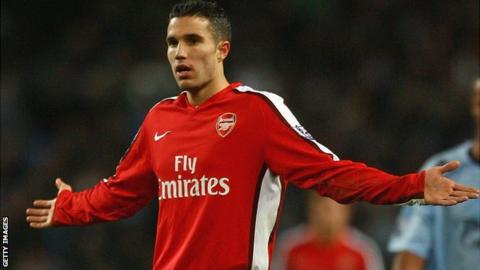 Sir Alex Ferguson says Manchester United's attempts to sign Robin van Persie from Arsenal have stalled.
The Netherlands striker, 29, has 11 months left on his Arsenal contract and has declined an offer to extend his deal at Emirates Stadium.
"We've made a bid, they [Arsenal] have been trying to negotiate with other clubs," said United manager Ferguson.
"I don't have a gut feeling about it. We can't get a breakthrough with Arsenal."
Ferguson first revealed the Red Devils had made an offer for the Gunners forward on 20 July.
It is not known whether they have improved their original offer, but Ferguson said he did not know whether United's pursuit of Van Persie would be successful.
It is understood Arsenal are reluctant to enter formal negotiations until a bid exceeds £20m.
"I don't know what Arsenal's thoughts are because they're not giving anything away," he told reporters after United's friendly against Barcelona in Gothenburg on Wednesday, which finished in a 0-0 draw before Barca won 2-0 on penalties.
"It's difficult to say why they're operating this way. I can't give you any more information. We just have to persevere.
"We are trying our best and hopefully it will come our way but there's no progress at this moment in time."
Van Persie scored 41 goals in 53 games for club and country last season and was named Professional Footballers' Association and Football Writers' player of the year.
Juventus are also interested in Van Persie, while Manchester City boss Roberto Mancini revealed the Premier League champions were now out of the running for the striker.
Meanwhile, Ferguson admitted to being staggered after hearing that another summer transfer target, Lucas Moura, had agreed to join French side Paris St-Germain.
The Brazilian, who has represented his country at the London Olympics, will join in January 2013 on a four-and-a-half-year deal from Sao Paulo.
"To tell everyone that PSG are here they've signed Thiago Silva and Zlatan Ibrahimovic," added Ferguson. "They must have spent about £150m in the last month.
"When somebody's paying 45 million euros (£35.5m) for a 19-year-old boy you have to say the game's gone mad. I find it quite amazing."