Jill Scott column: We must turn Olympics into domestic success

By Jill Scott
Everton and Team GB midfielder
Last updated on .From the section Football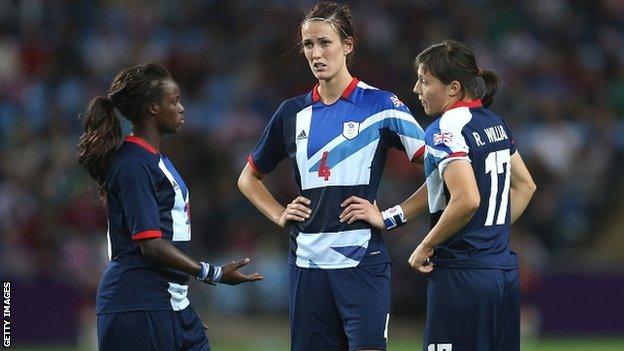 It was frustrating at times watching the United States beat Japan in the final of the women's Olympic football tournament on Thursday night.
Following our memorable success against Brazil at Wembley, the whole British team would have loved to have been playing at the same venue again for that match.
That night, when we beat the Brazilians in front 70,584 people, will go down as the best experience of my life.
But you don't really notice the atmosphere as much when you are playing so to witness the final - when a new Olympic attendance record of 80,203 was set - was amazing.
And as crushing as the disappointment was of being beaten in the quarter-finals by Canada, our minds soon turned to reflecting on how far women's football has come during the Olympics. That number of people coming to support a women's game in this country was breathtaking.
It made me realise that, despite the politics, I would love to play for Team GB again at the Rio Olympics in 2016. Any of the players or staff would say the same thing.
I must praise America's winning mentality. They showed in their last-gasp semi-final win over Canada that they never give in - and those small margins show how close we came to going further in the competition.
We believed we could win a medal but Canada were the better team when we played them at the City of Coventry Stadium. They had a game plan and stuck to it. After the euphoria of playing at Wembley, we didn't get our passing going. Canadian striker Christine Sinclair was the difference.
It was strange after the game. Lots of fans stayed on after the final whistle to cheer for us, summing up the whole feeling at the Olympics.
When we got knocked out of the World Cup in China or Germany, it was just a dead atmosphere in the stadium. But with so many people supporting us and telling us how well we had done at London 2012, it was difficult to get too down.
Having said that, I had tickets to the athletics the following day, and it was in the Olympic Stadium that it hit me that we wouldn't be taking part any more.
Going from the biggest high of my career to the biggest low was a sad feeling, but I guess that is football, and sport, all over.
I just hope now that our relative success and the appetite fans have shown translates into a boost for the domestic game.
Last summer, attendances in the Women's Super League rose after the Women's World Cup in Germany but then died off a little. This time, I am more hopeful because of how many positive messages we have been receiving.
Apart from my Twitter followers almost doubling, people have been telling us they will be bringing their families along to games. Dads have been saying their daughters have dragged them along to games in the past, but now they intend to take their sons, too.
Little messages like that temper the disappointment.
The women's team are not done yet, though. You may have seen our dance video and, having missed out on the opening ceremony, we will be at the Olympic Stadium for the closing ceremony in our secret GB outfits.
Then, next Wednesday, it's back down to business again, when Everton play at Doncaster Rovers Belles in the Women's Super League.
You can pay on the day and it would be great to see you there. Come and say hello after the game. I'm the tall one in Everton's midfield!
Don't forget, if you want to get in touch, you can via my Facebook or Twitter pages.