Port Vale: Players seek advice from PFA over legality of contracts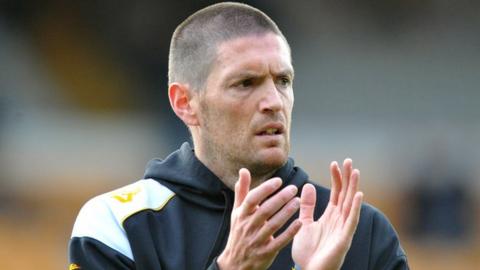 Port Vale players are seeking advice from the Professional Footballers' Association over the legality of their contracts as Keith Ryder's proposed takeover continues to stall.
Vale defender Gareth Owen said: "We want to resolve the situation.
"But, until the PFA can clarify, we have to err on the side of caution.
"Once the PFA have checked on the legality of the contracts offered, then hopefully everything will work out to a satisfactory conclusion."
When Vale's season ended on 5 May, two months after going into administration, Owen was one of only three players still on contracts going beyond 30 June.
Since then, the club have been allowed to re-sign more than half their existing squad on new contracts, while manager Micky Adams has also made new six new signings.
But the expected takeover of the troubled club by prospective new owner Ryder, which was due at the beginning of July, is still to happen - with just 10 days to go before the new season kicks off.
And, after contacting the PFA, the Vale players are reported to be stalling over signing the new contracts they have been offered by the administrators - as they are worried what will they be committed to if the Ryder deal does not go through.
"The last thing the players want to do is to cause any problems for the club and they are actively looking for an amicable agreement in order that the situation will be settled," said a prepared statement on the club website.
"The players are understandably cautious, as they are afraid if new owners come in to the club, the contracts may be declared void."
Ryder stated last week that he remains committed to buying the club, despite administrators Begbies-Traynor having revealed that they are talking to new bidders.
Ryder was first named preferred bidder by the club's administrators back in April.
He has since been waiting for clearance from the Football League in order to finalise the deal.
But Begbies-Traynor representative Bob Young insists that the delay is down to Ryder.