Tal Ben Haim agrees Portsmouth compromise over wages
Last updated on .From the section Football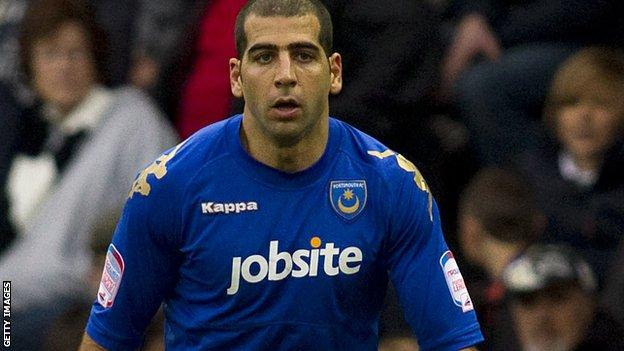 Portsmouth defender Tal Ben Haim has reached a compromise deal over his wages and has left the stricken club.
The departure of Ben Haim was the last major stumbling block in the club's attempts to avoid liquidation.
Administrator Trevor Birch had said the club would close on 10 August unless all the senior players left.
"I am pleased to announce that we have reached a compromise agreement with Tal Ben Haim, who will now leave the club," Birch said in a statement.
Only midfielder Liam Lawrence remains but he is a target for Cardiff City, while Kanu has left but is still seeking compensation over unpaid wages. That dispute will be settled by a Football League tribunal.
Lawrence has also previously said he would come to a compromise over his wages if the club could not move him on before 10 August.
"We expect to make an announcement on Liam Lawrence's future later today [Thursday] and, whilst the situation with Kanu has not yet been resolved, we are cautiously optimistic about our prospects," added Birch.
With Ben Haim gone and just Lawrence remaining, prospective buyers Portpin (former owner Balram Chainrai's company) can now start the process of bringing the club out of administration via a company voluntary arrangement (CVA).
Creditors have already agreed Chainrai's offer of two pence in the pound, while the Pompey Supporters Trust are also hopeful of taking control of the club.
They will find out on Thursday if Portsmouth City Council will loan them £1.45m to help with their £2.75m offer to Chainrai for the club.
"The progress that we have made over the past 24 hours means that there is now a much better prospect of meeting the conditions of the CVA, completing the sale of the club and avoiding liquidation," said Birch.
"As a result, we will now push on with our negotiations with Portpin, with a view to finalising a deal in the next few days.
"There is still more to do, and the club's future is not yet guaranteed. But we're in a stronger position and will now take some additional time to try to conclude matters."
Ben Haim had been on wages of £36,000 a week and his departure is a major boost to the financially-troubled club.
He had accused administrators of trying to bully him into a compromise deal, adding if the club were to fold they would have "blood on their hands".
The 30-year-old had claimed to have lost in excess of £2m since joining in 2009 but said on Tuesday there was just a £300,000 shortfall between the parties.
Once Lawrence leaves and the club comes out of administration, Pompey manager Michael Appleton can start the process of bringing in new players.
He has currently been playing triallists and youth team players in pre season, and some of these will be offered full time contracts at the club.