Port Vale will survive whole season - Administrator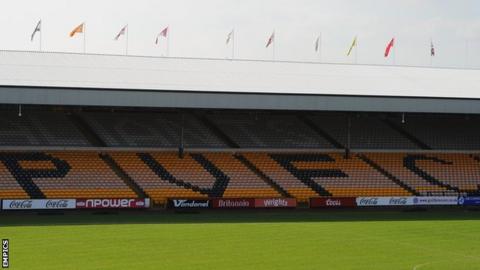 Port Vale administrators Begbies-Traynor have confirmed the club will last at least the upcoming season.
Vale have been in administration since March and have seen a proposed takeover by Keith Ryder stall in recent weeks.
Bob Young, a director at Begbies-Traynor, said a deal was agreed so they were not thrown out of the League.
"What we have done is offer the players contracts until the end of the season, so we are committed to play all of the fixtures," he told BBC Stoke.
"If we haven't achieved a sale by the end of this coming football season, clearly we're not going to achieve a sale and, in those circumstances at that stage, we'd have to close the football club down.
"We are still waiting to see if Keith Ryder is going to complete but we've made it very clear we're now exploring other options as well.
"They [the Football League] want us to make a commitment based on the whole season or they'll almost certainly throw Port Vale out of the league and put somebody else in instead."
Over the summer the club have been allowed to re-sign more than half their existing squad on new contracts, while manager Micky Adams has also made new six new signings.
With the changing of some of the contracts, players have sought advice from the Professional Footballers' Association over the legality of their deals if the proposed takeover by Ryder does not go through.
"As administrators, if we're going to play football, we need footballers," Young added.
"We want those footballers to be the players Micky wants to have on the books and particularly when you see how well they've done in pre-season."
Young did have some positive news to announce though, saying that they have been assured even if they start the season in administration they will not be deducted 10 points like last year.
"We've asked the Football League and they've said to us that as long as we comply with the Company Voluntary Arrangement that we agreed with creditors, they will not impose a further deduction of points," he stated.
"So we will make sure any deal, whether it is a new party or Keith Ryder, still complies with that CVA."