Torquay United boss Martin Ling eyes automatic promotion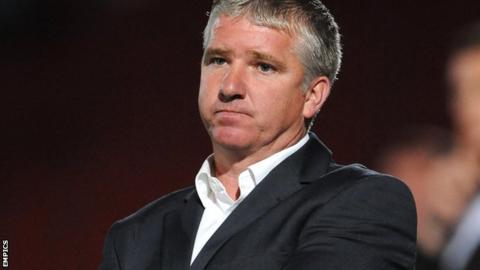 Torquay United manager Martin Ling has targeted automatic promotion from League Two this season.
The Gulls faced play-off heartbreak in the last two seasons and Ling is desperate for the club not to repeat this by securing a top-three spot.
"We've been play-offs in the last two years but we've not been able to finish the job," he told BBC Radio Devon.
"I would set my sights at the top three with the play-offs as the safety. That's what I do every year."
He continued: "I think if you don't set out to finish where the success lies, you're selling yourself short.
"The club's been successful over the last two years and its nice to have that and we want to continue with that."
Earlier this summer, Eunan O'Kane left the Gulls to join Bournemouth and Ling feels that some of his current team will be able to step into the role left by the 22-year-old.
"The answer [to O'Kane's replacement] will come from within," Ling added.
"I feel we have five midfield players but also people like Danny Stevens, Billy Bodin, Ashley Yeoman and Ryan Jarvis can that play in that second striker role.
"I feel that there's enough people there to have a look at first."
Ling also confirmed that trialist Jerel Ifil has left the club without being offered a contract, but that Carl Baker and George Artemi would remain on trial until a decision is made.
"Jerel Ifil has left the building, so that is a no," he said.
"The other two are youngsters that I wouldn't see in the team immediately, so they would be development players if we did take them.
"We will have another week with Carl Baker and George Artemi but it's not something that will go on forever."