Stoke's Michael Kightly suffered from depression at Wolves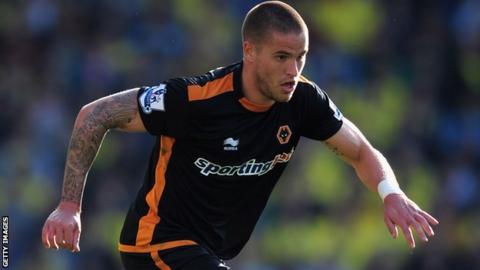 Stoke City winger Michael Kightly has revealed he battled depression during his long injury lay-offs at Wolves.
Kightly, 26, was blighted by several injury problems at Molineux, but recovered from double knee surgery to end last season in impressive form.
"I was low, to be honest. Looking back I was depressed," he told BBC Stoke.
"If someone would have told me that at the time I would never have agreed with them or asked for help. I needed it, it affected my personal life."
He added: "My career has gone up and down the whole way, but that injury was the lowest of the low for me.
"I thought that was me finished, and that injury has made me a better person and made me not only appreciate the game but understand the game, as it scared the life out of me."
Kightly spent a total of 15 months out at Wolves, missing the majority of their first season back in the Premier League.
He joined the club from non-league Grays Athletic in January 2007 after a loan spell and was one of the stand-out players in their promotion campaign of 2008-09.
The former England Under-21 international's contract was due to expire at the end of the season and having had a taste of the Premier League, he did not want to give it up.
"I was absolutely gutted to go down with Wolves last year but it's a new era, with a new manager, looking to bring in his own players," Kightly said.
"I just felt when you've been at a club a long time you can go a bit stale. I didn't feel like I was going stale but I didn't want that to happen and I felt like I was ready for a new challenge.
"I'll be criticised from the fans and part of me understands that, but I'd like to think if they put themselves in my shoes and weigh up the options I've had, hopefully they can find it in their hearts to agree with me.
"It was a sad day when I left, but I'm really happy to be here and look forward to having a good career at Stoke.
"I think I showed last year that I'm capable of playing in the Premier League and I just want to keep showing people that."