Jody Morris's renaissance under Derek McInnes' rule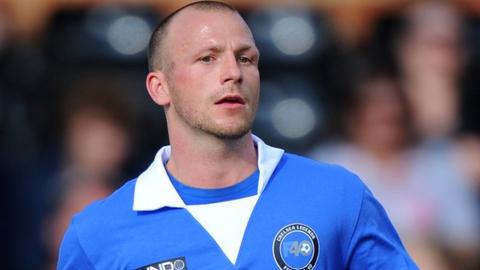 It is one thing to be known as a troublesome player on the pitch, but when that mantra follows you off the field it can be destructive.
Just ask Bristol City's summer signing Jody Morris.
"The reason I wasn't being taken on by English clubs wasn't to do with my ability," he told BBC Sport.
"Once you get a reputation, it's really hard to shake off.
"It's taken somebody who's been with me for four years to put his faith in me."
Step forward, Derek McInnes.
The Scotsman took a gamble on his former Millwall team-mate and brought him to St Johnstone in 2008, despite Morris's aforementioned reputation, which had left him without a club for 18 months.
It had all started so well for the Hammersmith boy. A product of the Chelsea academy - graduating alongside now captain John Terry - the gritty midfielder amassed 124 Premier League appearances by the age of 25 and was, albeit briefly, made club captain.
In 2003, a lucrative five-year contract was placed in front of him by then manager Claudio Ranieri. For a modern-day footballer and a life-long Blues fan - surely it was a no-brainer?
Not for Morris. He walked away from Stamford Bridge to join Peter Reid's Leeds United.
By this point, Morris had become blighted by negative publicity off the field; he was fined by Chelsea for drunken behaviour in a team hotel, as well as being charged but eventually cleared, along with Terry, of being involved in a fight in a London nightclub.
And his move to Elland Road did nothing to boost his credentials; he was released after eight months and 12 appearances, in a season where the club ended up relegated from the Premier League.
Inconsistent spells with Rotherham and Millwall followed before he found himself redundant in 2007.
"You think it will stay around forever and then you turn around and things aren't going so well," he recalls.
"I definitely have regrets over certain decisions I made.
"I left Chelsea when I shouldn't have. I played for my boyhood team and that's all I ever wanted to do but a lot of the time passed me by.
"There's other mistakes I've made on and off the pitch which, looking back, I wouldn't have made but hindsight's a great thing."
McInnes showed a little faith and took Morris under his wing at the Scottish Division One side, and the midfielder immediately rediscovered his spark.
He made 104 appearances for Scottish club, helping them to promotion to the SPL in 2009, and was soon given the captain's armband.
"I enjoyed my time under him as much as I've enjoyed my time anywhere in my career," he continued.
"What you see is what you get. He's straight down the line and honest with you.
"He likes you to roll your sleeves up and make sure you're in it to win games.
"I fell out of love with football before I started working with him. I hadn't been enjoying going to work everyday but working under the gaffer gave me that love for the game again."
When McInnes left St Johnstone in October to make his move south of the border to Bristol City, Morris stepped into his mentor's shoes to work as an assistant to caretaker boss Alec Cleland.
He returned to the playing field following the permanent appointment of Steve Lomas, but it was not long before McInnes coaxed him back in to the English game.
"Although I had no plans of when, or who to, I did always plan to come back down south," said Morris.
"It was a big decision but it was an easy one.
"Before linking up with Derek I'd had a couple of really bad years - a lot of knocks and a lot of down time.
"It's nice to have the ups again in the last four years. I'll be looking to get that again here."
Morris will make his comeback to the Championship on Saturday, but the ever-confident midfielder appears to have no qualms at making his return.
"Although I'd been out of the English game for four years, I've never doubted my ability.
"I've definitely got a few more years left in me. Luckily, I was never one of the quickest - even when I was 17.
"I'm only 33 and live my life a lot better than I did. I'm even fitter now than I was 10 years ago."
The difference in Morris is clear to see when asked about the main concerns of returning to England:
"The kids' accents are going to take a funny old change," he added.
"They've got Scottish accents at the moment so add a bit of Bristolian to them and God knows what will come out."