Hartlepool United coach Cooper happy with squad depth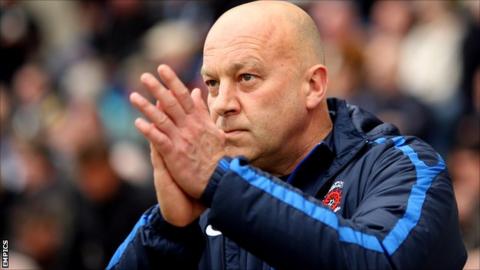 Hartlepool United head coach Neale Cooper says he is "comfortable" with the quality of his squad, but has not ruled out further additions.
Pools signed Jonathan Franks and Simon Walton during the summer, while just over a fortnight remains of the transfer window.
"There may be movement in the transfer market but at the moment we're ok," Cooper told BBC Tees.
"We're looking forward to the season and I'm comfortable with the team."
Copper continued: "James Poole has been on the bench, Colin Nish is back from two knee operations, there's Paul Murray and Darren Holden, so we've got a squad that's together.
"But it's like anything, you offer players to a manager and they'll take them."
Chairman Ken Hodcroft has run the club prudently, evidence of which was revealed in the recent Football League report on agents fees as Pools posted a zero figure for the second season running.
In turn, the introduction of a salary cap for League One clubs has added extra pressure on clubs recruitment for the season ahead.
"We're salary-capped in our league, you can only spend what you bring in," Cooper added.
"It's the way football is going now and it's a bit tight. In a perfect world we'd like to bring two or three into the squad."