Cardiff City ready to make headlines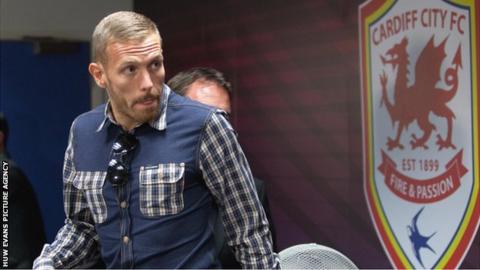 There is never a dull moment at Cardiff City. After four trips to Wembley in recent years and three successive play-off disappointments, there is still much to debate behind the scenes.
Having been beaten emphatically by West Ham United in the two-legged play-off semi-final in May, few could have predicted the storm that was to follow.
A rebranding change from blue to red was undertaken, as the Malaysian owners promised more investment into a club which they claimed needed £1m a month just to stay afloat.
The initial backlash from the supporters was quelled to some degree, with some prepared to compromise over their traditional home colours in return for a much brighter financial future, and of course the incentive of one day joining the elite in the promised land of the Premier League.
The arguments continue, but the opening game of the Championship season against Huddersfield will be a landmark occasion as the Bluebirds wear red shirts at home for the first time in a competitive game.
"The shirt colour doesn't bother the players. What we do on the pitch, it wouldn't matter what colour we're wearing," said captain Mark Hudson as he prepared for his fourth attempt at Premier League promotion with the Welsh side.
"I understand it's been a big issue for the fans but as players we're playing for Cardiff City and that's what we're thinking about, trying to win games for Cardiff."
Ultimately only time will tell whether the rebranding is a success, but if the owners were looking for something to get any dissenters back on board then a landmark signing of the stature of Craig Bellamy would surely be it.
The Wales striker has sealed a return to his hometown club from Liverpool and he could be the x-factor that many claimed manager Malky Mackay's hard-working team lacked last season.
During his loan spell from Manchester City during the 2010-11 campaign, Bellamy made no secret of his desire to return and finish the promotion job. Could 2012-13 be the year it actually happens?
"I raved about him when he came last time," added Hudson. "He brought great professionalism to the team, he's a great player and a leader and he makes everyone raise themselves to his standards."
With Bellamy back at Cardiff City Stadium, you would have to argue that it propels Cardiff into the bracket of teams in the second tier that everyone wants to beat, Bellamy being the big fish in the smaller Championship pond.
However, the three teams relegated from the Premier League last season are all in a sound financial position to challenge for an immediate return, along with those still enjoying parachute payments from their spell in the big time: Blackpool, Birmingham, Hull and Burnley.
Add to that the surprise package that seems to emerge every year. Last season it was Southampton, this term it could well be former City manager Dave Jones' Sheffield Wednesday.
Debt-free for the first time in a long time since their relegation from the Premier League in 2000, the Owls have to be considered as an outside bet.
During his time in Wales, Jones consistently said that the Championship "gets harder every year", and looking at the long list of promotion contenders for the new season it is difficult to argue with his logic.
But one thing is for certain, whether promotion is finally achieved or not Cardiff City will make headlines in 2012-13.