Rangers' Ally McCoist & Charles Green asked to explain comments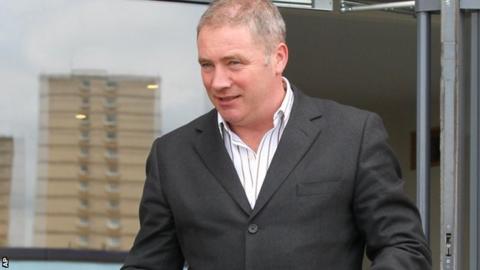 The Scottish FA has served a notice of complaint on Rangers manager Ally McCoist and chief executive Charles Green.
McCoist had called for the three-man Scottish FA judiciary panel who punished the club to be named.
And Green claimed bigotry was among the motives for punishing the club for the misdemeanours of the old company.
McCoist & Green have until 17 August to respond, with a hearing set for 13 days later.
But Rangers chairman Malcolm Murray has already vowed to defend the pair against any charge of bringing the game into disrepute.
"We are disappointed by the decision to convene disciplinary proceedings," he told the club website.
"The club has already provided the SFA with what it regards as a clear and compelling explanation of Mr Green's remarks.
"We will defend both Ally McCoist and Charles Green vigorously at the respective hearings.
"In keeping with the principles of free speech, we will defend the right for people to express their opinions in good faith."
Rangers face a 12-month transfer embargo and were fined £160,000.
The punishments came as a result of the club being found guilty of five breaches of SFA rules, while owner Craig Whyte was found guilty of two rule breaches and fined £200,000.
McCoist had asked: "Who are these people? I want to know who these people are.
"I'm a Rangers supporter and the Rangers supporters and the Scottish public deserve to know who these people are, people who are working for the SFA.
"Make no mistake about it, this is an SFA decision. They have appointed the panel, so therefore they are working for the SFA, but who are they?
"I think we have a right to know who is handing out this punishment to us, I really do."
With Rangers gearing up for life in Division Three, Green reacted after SPL clubs voted against granting his controlling consortium's newco Rangers entry into the top flight.
"Some of it has been driven by bigotry, some of its been driven by jealousy and some of its been driven by all the wrong motives," Green said.
Rangers went into administration last season and Green's Sevco consortium created a new company after failing to prevent the old one being liquidated.
SPL clubs voted against accepting the new club into the top flight and the Scottish Football League clubs voted them into Division Three instead of the First Division.