Alejandro Bedoya leaves Rangers for Celtic's Euro opponents
Last updated on .From the section Football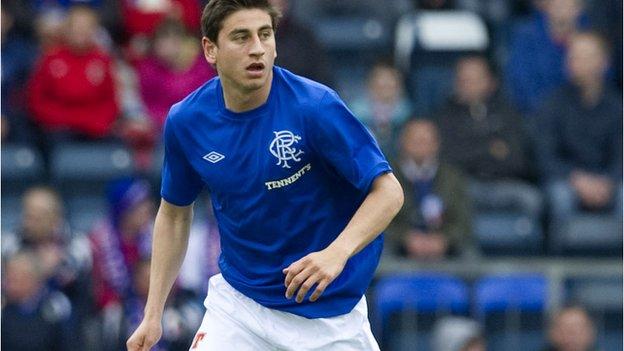 Alejandro Bedoya could face Celtic in the Champions League after leaving Rangers to sign for Helsingborgs.
The United States midfielder, 25, has decided against staying with the Ibrox club, financial problems meaning they are now in Division Three.
Bedoya, who has signed a short-term contract, said on his Twitter account: "Hard decisions need made!
"I've decided to move on but am extremely grateful at opportunity to have played at Rangers."
Bedoya had signed a three-year contract with Rangers last summer after an undisclosed fee with Orebro.
He failed to become a first-team regular in Glasgow, making 13 appearances, but returned to pre-season training despite a number of top players leaving the club as their new owners were denied a place in the Scottish Premier League and were left seeking compensation from the players' new clubs.
However, after they were also denied a place in Division One, Bedoya made it clear he wished to move and he returns to the top flight in Sweden, where he spent two and a half years with Orebro.
"Looking forward to joining up with my new team-mates at Helsingborg tomorrow for my first training session," he said.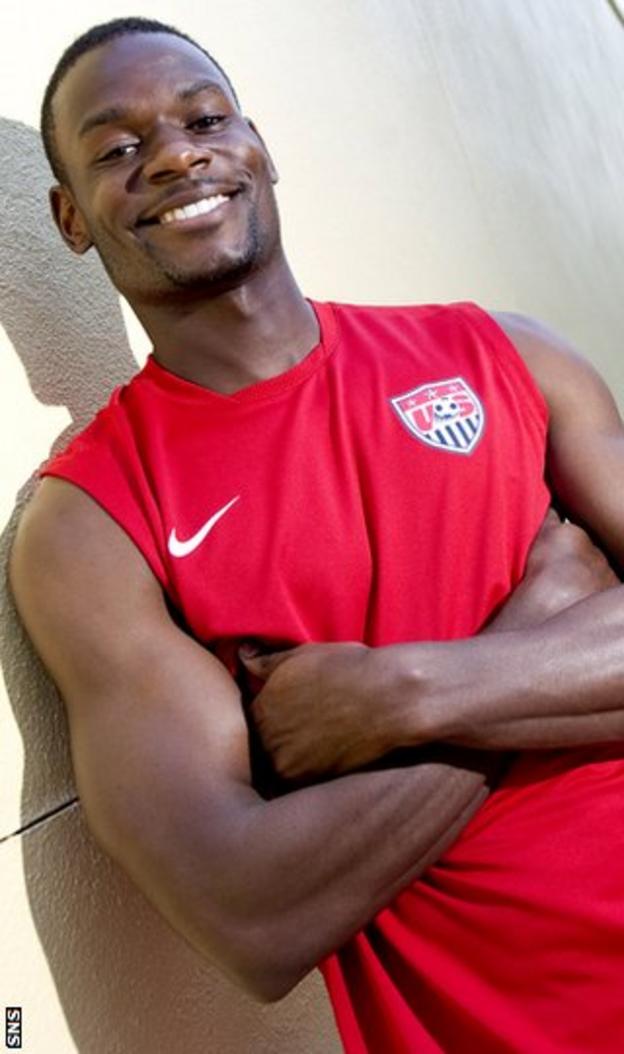 Helsingborgs lie sixth in the Swedish First Division, six points behind Elfsborg, with Bedoya's former club lying bottom after 18 games.
"I have to honest and admit that I had not imagined I would be back, but my first spell in Sweden was good," he told Helsingborgs' website.
"I will return to a very strong club with a lot of tradition in Sweden and also in Europe.
"Things are going well for the team now and I think it's a good club for me to go to.
"I'm very excited. It's been a couple of tough months, but I look forward to starting a new journey.
"It was a turbulent time. I had a lot of problems, so it was not that funny, but I loved my time in Glasgow. I learned and grew a lot."
Bedoya's arrival coincided with his new club being drawn against Celtic in the Champions League play-off round.
HIF sporting director Jesper Jansson said: "We saw an opportunity in that Rangers have gone bankrupt, so are therefore able to sign Alejandro on a short-term contract.
"It is a win-win situation. He may shine for HIF and we get a good player for a major part of the Premier League and the Europa League or Champions League.
"We know him well from his time in Orebro. We know he is strong in their runs into the box and he can cover a lot of positions in midfield."
Rangers manager Ally McCoist previously announced that USA midfielder Maurice Edu is unlikely to feature again as he seeks another club, while international captain Carlos Bocanegra is also expected to leave Ibrox.