Italian footballer Emanuele Pesoli on hunger strike after ban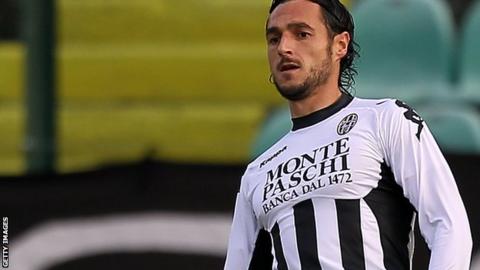 Emanuele Pesoli of Serie B side Verona has gone on hunger strike in protest at his three-year match-fixing ban.
The defender has also chained himself to the gates of the Italian Football Federation's headquarters in Rome.
"I am hurt by the sentence and I would like to confront those who accuse me," said Pesoli.
The 31-year-old has been banned after a probe into illegal betting on matches while he was at Siena, a club he left in July.
Juventus manager Antonio Conte has been suspended for 10 months for not reporting match-fixing when he was in charge of Siena, then in Serie B, in the 2010-11 season.
"It is a strong protest but they are ruining my life for something I have not done," added Pesoli. "I will stay here until I can't do it anymore."
Pesoli was one of several players, coaches and officials to be banned by the federation on Friday in the latest scandal to engulf Italian football.
In May, police searched more than 30 homes, including those of players, trainers and officials of clubs in Serie A, Serie B and lower divisions.
Lazio captain Stefano Mauri, 32, was held along with former Genoa midfielder Omar Milanetto, while officers visited Italy's pre-Euro 2012 training camp to question left-back Domenico Criscito, 25.