FA chairman Bernstein urges footballers to emulate Olympians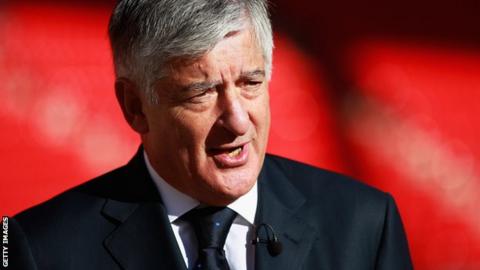 Football Association chairman David Bernstein hopes footballers will emulate the sporting spirit shown by athletes at the Olympics.
The FA met with the Professional Footballers' Association on Thursday to discuss ways of improving the standards of behaviour seen on the pitch.
"The discipline of our athletes is a benchmark that all sports people can aspire towards," Bernstein said.
"It is important players embrace what we have seen over the past two weeks."
Bernstein added: "After the sporting spirit we have seen at the Olympic Games, players must recognise that with the privilege of playing comes the responsibility for managing themselves and their behaviours in a similar way.
"In so doing they can also have a positive effect on young people who follow and play the game."
Last month, John Terry was found not guilty by a magistrates court of racially abusing fellow footballer Anton Ferdinand, but he faces an FA charge which he denies.
Manchester United's Rio Ferdinand was also charged with improper conduct by the FA in relation to comments posted on Twitter following the trial. He denies the charge and has asked for a personal hearing.
PFA chairman Clarke Carlisle wants a clampdown on foul and abusive language in football, calling for improvements in player conduct and for football authorities to show leadership.
With the Olympics coming to a close, attention will move to the start of the football season and Carlisle feels now is the ideal time to reinforce the need for players to show more respect for the game.
"There is always going to be intense rivalry amongst the heat of a game, but that does not mean players should lose all respect for opponents and we need to educate our members in the need to temper their language towards one another," he said.
"During Euro 2012 there was a good level of behaviour both on and off the pitch. Undoubtedly, there was a reduction in players pressurising officials and the attitude towards opponents was of a very high level.
"This has been further enhanced by the performances of Team GB at the Olympics and the general level of respect between athletes and opponents.
"These positives should be taken forward into the new season and players have an opportunity to continue to develop not only a high level of performance but also respect for their fellow professionals, match officials and the game itself."