Manchester City send clear message to Premier League rivals
By Ben Smith
BBC Sport at Villa Park
Last updated on .From the section Football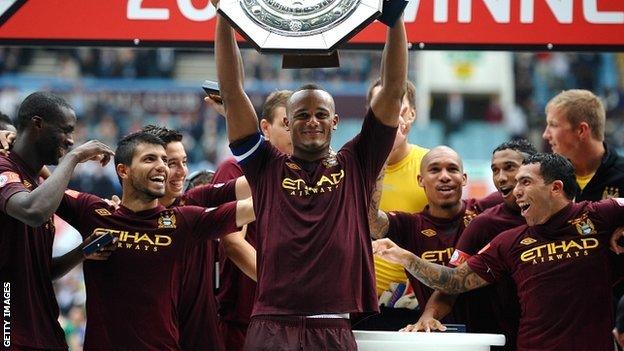 It was as if Roberto Mancini had borrowed a line straight out of the Sir Alex Ferguson book of gamesmanship.
"United start as favourites this year," the City manager said last week.
"We are maybe in second, third or fourth position. When you win something it is important to improve."
No-one bought it at the time but Mancini's claims looked even more ludicrous during a 12-minute period at Villa Park on Sunday when City cut 10-man Chelsea to ribbons and scored three scintillating goals that ultimately settled the Community Shield.
The Premier League champions may still be some way short of where Mancini wants them to be, but as the new season approaches it is clear they are still very much the force to be reckoned with.
"City are the favourites, there is no doubt," Chelsea manager Roberto Di Matteo said after his side's 3-2 defeat.
"They are the champions and we have to catch up 25 points from last season. Manchester United will be chasing City as well. They have kept the squad together, I am not sure whether they are going to make any other signings but they are a strong team."
Despite the imminent arrival of Jack Rodwell from Everton, Mancini's underlying sense of frustration that more have not followed remains. And yet without a raft of new arrivals the players who won City their first Premier League title for 44 years in May appear to have grown into an even more cohesive and hard-working unit during the summer months.
No-one more so than Carlos Tevez who, having shed a significant amount of "puppy fat", turned in one of the more impressive performances of his controversial City career.
The Argentina striker showed he still has the alertness and imagination to see and exploit openings of which others have no inkling and at his best he shoots with dramatic power and accuracy. City's second goal was a case in point.
Gathering the ball on the edge of the penalty area, Tevez feinted, dummied and finally surged his way across the 18-yard line before unleashing a thunderous right-foot shot that flashed beyond Petr Cech and into the net.
"I am very happy with Carlos," Mancini said afterwards. "He has worked very well in pre-season because this year he wants to play football. Carlos is a top player and if he wants to play he is at the very top."
Yaya Toure turned in another virtuoso performance, pulling the strings from his deep-lying midfield role but surging forward when the moment demanded it to score the goal that dragged City level. But this was about more than individual performances, as City displayed a togetherness and a confidence forged in the final months of last season.
Chelsea were undermined by Branislav Ivanovic's reckless, studs-up challenge, a dismissal that left them open to the kind of assault City mounted in the second half. But when the champions were presented with their opportunity, they seized it ruthlessly, pouring forward time after time and striking three times in 12 minutes through Toure, Tevez and the excellent Samir Nasri.
Chelsea gave City some anxious moments late on but what had gone before demonstrated why there were 25 points separating these teams in the Premier League last season. And all this with David Silva, Mario Balotelli, Joe Hart and Joleon Lescott on the sidelines.
There was plenty of cause for optimism among Chelsea fans in defeat. Fernando Torres showed glimpses of the form that has apparently deserted him so badly over the past 18 months, taking his goal with a calm assurance that belied the problems he has endured during his time at Stamford Bridge.
Ramires delivered another terrific display in midfield and there were hints of Eden Hazard's undoubted potential.
"He was lively," Di Matteo said later. "He showed some glimpses of his quality and he will be a big success for us."
But this was the day City sent a message to the rest of the Premier League, a clear signal that the title is very much theirs to give away.
Mancini remains committed to strengthening his squad - Daniel Agger remains one target, but there are others.
The manager may have expressed his ongoing frustration at the lack of new recruits but at Villa Park his current crop delivered a timely reminder that they remain the benchmark for the rest to aim at.