Colin Fallaize unhappy despite Guernsey FC cup victory
Last updated on .From the section Football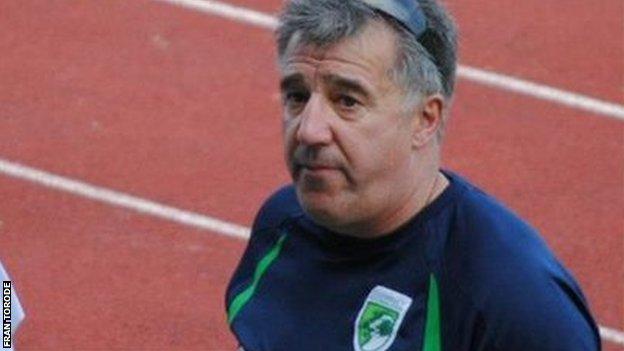 Guernsey FC assistant manager Colin Fallaize says his side must improve their performances despite their 3-1 win over Feltham in the Combined Counties League Premier Cup.
Glyn Dyer's early strike put Guernsey ahead before Matt Loaring got a second.
Feltham pulled one back early in the second half before Andrew Stirling's own goal made it 3-1.
"I don't think we performed at a level and a standard that we are happy with," Fallaize told BBC Guernsey.
"We were the best team on the pitch but it's certain things within your own standards that you set which I don't think we matched up to and we will need to match up to going forward.
"It's about setting your standards so that you can perform at a level that satisfies you, how you play and how you perform is where you take your real satisfaction."
Fallaize says he feels that manager Tony Vance is unhappy with how the side are playing, especially after their 1-0 loss away at Camberley Town last week.
"If you take your finger off the pulse a little bit then your performance is not going to be that good and your boss is not going to be 100% happy," he added.
"I don't believe Tony Vance is 100% happy with what's going on at the moment."