Port Vale administrators agree new deals with 17 players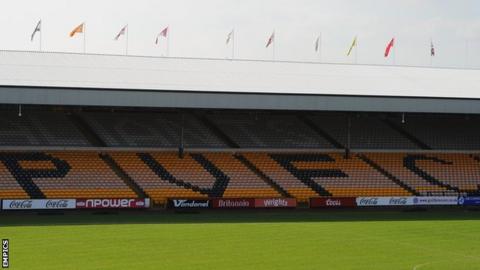 Port Vale administrators Begbies Traynor have agreed new contracts with 17 members of the club's squad because of a delay in Keith Ryder's takeover.
Vale's prospective new owner Ryder had originally agreed deals with 18 players on the condition that his proposed takeover was completed.
But following issues with his bid, those who signed contracts with Ryder had to be offered different deals.
All apart from David Artell accepted alternative deals until next April.
Artell has joined League Two rivals Northampton.
Last week, Vale's Professional Footballers' Association representative Gareth Owen said the players would be seeking the advice of the PFA over the legality of their contracts.
Following on from this, the administrators have taken matters into their own hands, and tied the players down to contracts with the club.
The Ryder takeover was expected to be completed near the end of last season, but there have been a number of issues in his bid which the club have had to deal with.
And Port Vale manager Micky Adams has admitted to BBC Radio Stoke that he is disappointed with how the Lancashire businessman has handled his takeover.
Adams said: "The sad reality is [Ryder has] not delivered.
"I feel really embarrassed. I believed in Keith Ryder and I sold that to the players at the football club.
"When you get the situation like we've had when players can walk away for nothing, it's absolutely frightening.
"I've told them before the [Tranmere friendly]: 'Thanks for your loyalty, not to me but to your football club.'
"It shows real character and commitment and I hope the people out there understand that and realise what they've done, because in many respects they've thrown away a lot of money."
Ryder was first named preferred bidder by the club's administrators back in April.
However, the delays in Ryder's bid has caused the administrators to enter talks with new bidders.