Corby defender Andy Holt retires with knee injury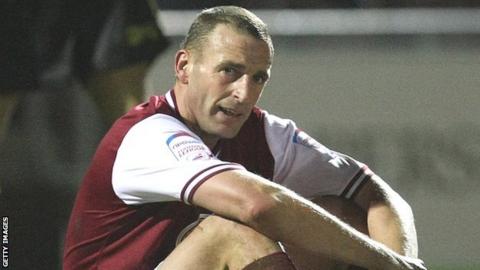 Corby Town defender Andy Holt has retired from football aged 34 following a knee injury.
Holt made over 450 career appearances and joined the Blue Square Bet North team this summer after his release from Northampton Town, who he captained.
He told BBC Northampton: "It did seem ideal at Corby, training a couple of times a week and playing Saturdays.
"But I didn't want to just pick up some money. If I couldn't give 100% I didn't want to let the manager down."
He added: "It's very frustrating, I've felt my knee getting worse and worse.
"I've always wanted to go into the coaching side because football is all I've known. I'm doing a bit of coaching with young kids now, which I love."
Holt spent six years at Northampton, joining them from Wrexham in 2006 after spells at Oldham Athletic, Hull, Barnsley and Shrewsbury.
He made 220 Cobblers appearances before re-uniting with former Northampton boss Ian Sampson and team-mates Leon McKenzie, Paul Walker and Jason Crowe at Corby.
"It is disappointing because I was looking forward to playing with Crowe, McKenzie and Walker," he said.
"They will do really well. Sammo has got them playing football and hopefully they'll be successful."
Sampson added: "It's a blow. He's an experienced footballer and that would have been invaluable."
Meanwhile, former Cobblers Greg Kaziboni, Nathaniel Wedderburn, Liam Richardson and Tom McGowan have all agreed deals with the Blue Square Bet North club.
Midfielder Kaziboni, 19, made five substitute appearances for Northampton prior to his release in February.
Wedderburn, 21, made 39 appearances for the Cobblers having come through the Stoke City academy and having also played for Notts County and Hereford United.
Richardson and McGowan are former Northampton trainees.
Striker Ricky Miller, who scored six goals on trial for the Steelmen in pre-season, has also agreed a deal for next season.
He will miss the first two matches of the league campaign, serving a suspension from last season.