Enyeama completes loan move to Maccabi Tel Aviv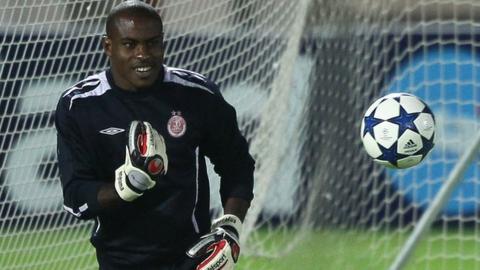 Nigeria international goalkeeper Vincent Enyeama has completed a season-long loan move to Israeli club Maccabi Tel Aviv from French side Lille.
The deal had been delayed after Enyeama became the target of a hate campaign by fans of Maccabi's arch-rivals Hapoel Tel Aviv, the club he left last summer.
Abuse directed at Enyeama and his family reached vitriolic levels.
But he told BBC Sport: "It has been very intense with the fans but I am looking positively ahead now."
He added: "I am extremely focused on playing football and help the team achieve success. Whatever challenges out there I am grown enough to fight on.
"There was a mix-up somewhere about what they thought I had said back then but all that is cleared up now.
"I came back to Israel for regular football, which is hugely important for my career."
Hapoel fans had accused Enyeama of betraying their club, with some reports even claiming he said he would never play for Maccabi, not even for a million dollars.
But Enyeama was quick to deny granting any interview or making such remarks.
"At the time I was leaving Hapoel, there were reports that I was talking to Maccabi but I said there was that nothing like that," he said.
"I never made said anything so insensitive at that time because I was looking for a move abroad.
"Seriously, anyone who doubt my stance should produce a tape of such an informed interview."
Enyeama has been the Super Eagles' first-choice goalkeeper since 2002 and experienced six years in the Israeli league, where he first tasted European club football.
He won the Israeli league with Hapoel in 2010 and also enjoyed back-to-back Israeli cup success both in 2010 and 2011.