Darren Boyce opts to re-join Coleraine after leaving Glentoran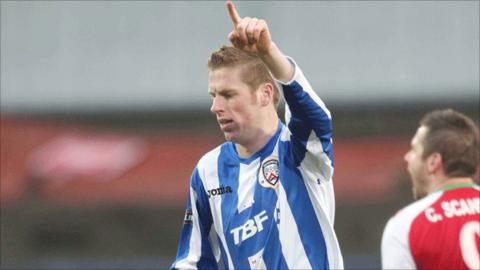 Coleraine have completed the re-signing of striker Darren Boyce from Glentoran on a permanent deal.
The 26-year-old returns for a third spell at the club a year after leaving for a second spell at the Oval.
"Our number one priority all summer has been to sign another striker," said Bannsiders' manager Oran Kearney.
"We are trying to build a local side with local identity, so to have a player of Darren's calibre back in our squad is a boost," he added.
With Shane Jennings ruled out until December, the return of Boyce will give Kearney additional striking options.
"The past is well documented, we all make mistakes. I've made plenty in my time, but I am only concerned with the future," Kearney explained on the club's website.
"As manager of Coleraine, I have to make decisions for the betterment of the club, especially in terms of the playing staff.
"I am not asking anyone else at the club to do anything differently.
"It is his job to grab the opportunity that he probably believed he would never see again and to earn the respect of the fans with his performances on the pitch, the same way any other new signing would.
"Darren's goal record is up with the best in the league and it would be unprofessional of me not to want someone with that record.
"I always remained on good terms with Darren and this makes a decision like this even easier. Goals win games and in my short time as manager I've learned that you can never have enough goalscorers in your squad.
"Last season was a tough one for Darren, yet he still weighed in with 13 goals in 25 starts.
"It would have been easy for him to sit on a big contract for the next two seasons, but he wants to play. He had other options and has taken a huge pay cut to come back to Coleraine and the decision was a very simple and quick one. It is easily the fastest deal that I've ever concluded.
"In Darren's own words he is buzzing to be back. He is a bit behind having not had a full pre-season or many matches, but we won't be long getting him up to speed."