Matthew Amoah hopes to win Ghana recall
By Pieter Stroink van Eizenga
BBC Sport, Amsterdam
Last updated on .From the section Football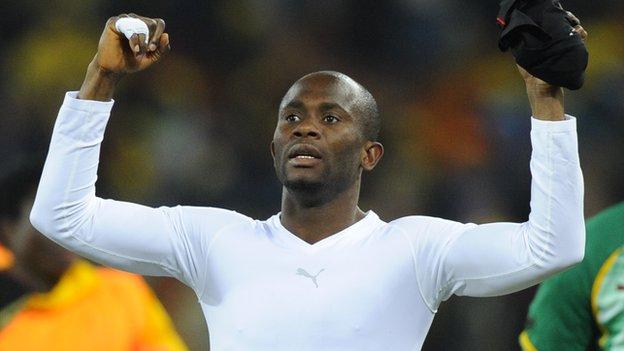 Matthew Amoah hopes his move to Dutch side SC Heerenveen will help him win back a place in the Ghana squad.
The 31-year-old forward had an unsuccessful spell in Turkey last season and has not played for the Black Stars since the 2010 World Cup.
But after returning to Netherlands, Asamoah told BBC Sport: "I hope I haven't played my last match for Ghana.
"Coach Akwasi Appiah has not called me yet, but I think I can still contribute to this team."
Amoah made his international debut against Morocco in 2002 and has scored 13 goals in 43 appearances for his country.
He was instrumental in helping Ghana reach their first World Cup finals in 2006 - and qualify again in 2010 - and is rightly proud of those achievements.
"The World Cup 2006 in Germany was in my opinion Ghana's finest hour in football. It was the first time we attended a World Cup. We won against the Czech Republic, which was one of the top performers in Europe at that time," he said.
"My role in the team at in 2006 made it much more satisfying than reaching the quarter-finals of the World Cup in 2010. However, I was top scorer for Ghana during the 2010 qualifiers."
And Amoah believes he could play an important role in the current squad in the qualifiers for the 2013 Africa Cup of Nations and the 2014 World Cup now that he has returned to the country where he started his professional career.
Since joining Vitesse Arnhem in 1998, Amoah has played in Netherlands for all but three years of his career - a spell in Germany for Borussia Dortmund between 2005 and 2007 and then last summer he joined Turkish side Mersin Idman Yurdu.
That last move proved to be a disaster for the forward and he revealed: "There was a great difference between the time I was introduced in Turkey and right after signing the contract. The atmosphere suddenly changed.
"I played a couple of matches, but it just didn't feel right anymore. I wanted to leave as quickly as possible."
But now Asamoah is feeling positive about the future, having signed a two-year deal with SC Heerenveen, who are managed by legendary Netherlands striker Marco van Basten.
"It is a club that has gone sky high over the last decade," he said. "They've become a challenger in the Dutch Eredivisie.
"Marco van Basten being the manager at the club is not the only reason for me to sign with SC Heerenveen. However, he's a good manager because he is very clear about his vision and rules. You know what to expect.
"He tells me my only role is to score goals whenever given the chance in the starting eleven. Holland is my second home, I grew up here and started my professional career here."
Although Amoah clearly admires Van Basten he is sure he does not want to emulate the Dutchman's career path.
"Becoming a manager is not really my call," he explained. "My future plans are becoming a football scout or starting a football academy. However, you'll never know were you end up. But I have no worries about that.
"I've always been very careful with money and certain investments. Think twice, is my advice. I've seen it happening many times in my career; talented and successful African football players, whom I played with, ended up going bankrupt."