Freddie Sears backs Colchester partnership with Clinton Morrison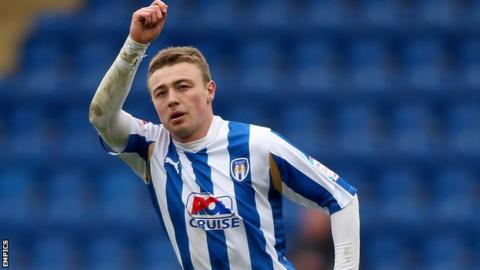 Colchester striker Freddie Sears believes his partnership with Clinton Morrison can help the team challenge for promotion this season.
Sears, 22, and 33-year-old Morrison both joined the U's this summer.
"Last year I played in the Championship, Premier League the year before, I know what I can do," Sears told BBC Essex.
"I know Clinton well, I was with him at Coventry. He's great to have around the place. You can learn a lot from him."
Colchester finished 10th in League One last season and manager John Ward is looking to his remodelled front line to help push them towards the top six this term.
And Sears, who was with the club on loan last season scoring twice in 11 games, believes a three-year contract gives him the stability he needs to try to fulfil the potential he first showed as a teenager with West Ham.
"I need a full season where you're going to play 40 games," he said.
"I've been in and out (of sides) a lot, I've been out on loan and I've ended up getting 10 games a season where you don't know whether you're coming or going.
"This is the best I've felt in a long time, I'm chomping at the bit to get going."
Sears added: "The club has cut the budget but Clinton Morrison has come in, Marcus Bean and myself, so I think we've got a really good chance this year.
"The last couple of years, we've been quite solid but just not quite got there. Maybe this year can be different for us if we can get off to a good start."