Steve Kean unaffected by speculation - Kazim-Richards
Last updated on .From the section Football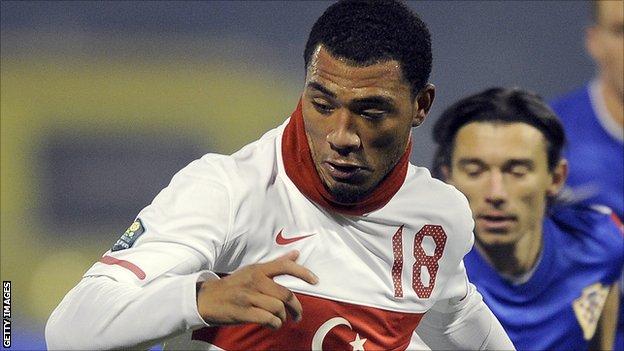 Colin Kazim-Richards says Blackburn manager Steve Kean is not showing any signs of pressure to his squad.
Fans have staged numerous protests against Kean, while global advisor for comments made about the Rovers boss.
"I don't know what's going on in the boardroom," Kazim-Richards, who joined Rovers on a season-long loan on Friday, told BBC Radio Lancashire.
"It doesn't affect the way he coaches or [his manner] around the players."
And the London-born Turkey international, who has not played for an English club since 2007, is determined to repay Kean's faith in him.
"If I did have any doubts, they got straightened out after speaking to him for one or two minutes," added the 25-year-old.
"It happens at every single club, even clubs that are doing well. You're just not seeing it.
"Ours has been broadcast around the world but, believe me, it goes on everywhere. The players just deal with it.
"I couldn't really care less what was going on. Let's just go to Ipswich [on Saturday] and get three points."
After playing for Bury, Brighton and Sheffield United early in his career, the forward has gone on to play in domestic leagues in Turkey, France and Greece.
"I've become a much better player technically because I'm playing with more technical players, but there's nothing like playing in England," he added.
"I'm not here to come here on loan, and if things don't go well, just say 'oh well, I'm just on loan'. I'm here to get us back into the Premier League.
"Whatever happens after that, it happens after that. It's not all about Colin Kazim-Richards, it's about Blackburn Rovers.
"I don't think I have to establish myself again. What I've done in my career has been exceptional from where I've come from.
"I'm very humble about what I've done, but I want to come here and show people what I am again."