Ricky Little faces charge for Facebook injury threats
Last updated on .From the section Football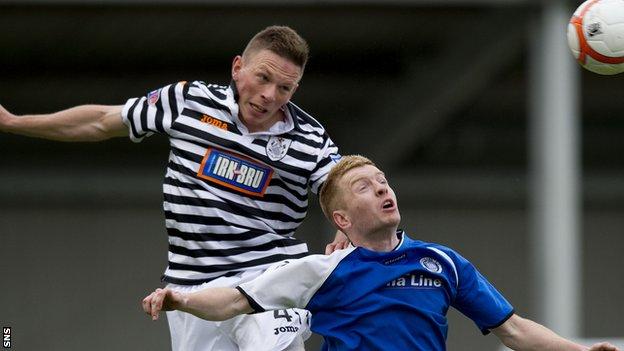 Queen's Park skipper Ricky Little has been charged by the Scottish Football Association for making "comments of a threatening nature" on Facebook.
A newspaper report claimed the defender had used the social networking site to say he would injure Rangers players.
The SFA's compliance officer has issued Little, 23, with a notice of complaint.
He faces a charge of "not acting in the best interests of Association Football by posting on Facebook improper comments of a threatening nature".
Queen's Park and Rangers will meet in Division Three, the bottom division of the Scottish Football League, this season, with their first meeting at Ibrox on 20 October.
Rangers, who won the Scottish title a record 54 times, lost their place in the Scottish Premier League when a new company had to be formed to run them after the original could not be saved from administration.
Queen's Park president Ross Craven said both the club and Little wished to apologise over the matter.
A statement from Caven on the club's website stated: "Accompanied by our general manager and first-team coach I discussed the matter with the player immediately following last Saturday's game against Airdrie United.
"The player assured those present that the exchange represented no more than casual 'banter' amongst long-standing friends.
"He also confirmed that as far as he was aware the only people reading his postings would understand the flippant context in which they were made.
"This has proven to be a salutary lesson for Ricky as he is now fully aware that digital media is a very open form of communication and it can be unable to reflect the context of an exchange and therefore be mis-interpreted.
"Consequently, both Ricky and Queen's Park FC apologise for any anxiety which might have unintentionally been caused and the club will at an appropriate time contact Rangers to pass on a similar message.
"Ricky assured both myself, our general manager and our first-team coach that he would approach the Rangers ties within our Division Three campaign in the same sporting manner that he has approached all of his 124 appearances for our club to date."
Little's SFA hearing will take place on 30 August.