Aaron Ramsey cool on Wales move for Ryan Shawcross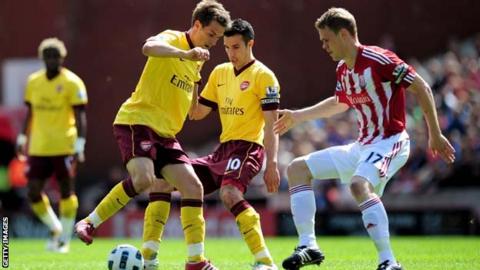 Wales captain Aaron Ramsey insists it is up to Chris Coleman if he brings Ryan Shawcross into the Welsh squad.
Ramsey's leg was broken in six places in 2010 after a tackle by Shawcross during a Stoke City v Arsenal clash.
Former England Under-21 defender Shawcross, who is eligible for Wales, apologised via a text but the injury left Ramsey sidelined for 10 months.
"It's his [Coleman's] decision who he brings and who he decides to play," Ramsey said.
"I'm just the captain and a player who just turns up and wants to play for my country, so ultimately it's his decision.
"We've [Coleman and me] had a chat but it's his decision at the end of the day and I'm sure he will have the team's best interests at heart.
"I had a text off him [Shawcross] straight afterwards after I done my leg but that was it.
"That was after what he did but I'm over that part and I have moved on since that happened, and I'm just delighted to be back again playing.
"I'm over what happened. It's up to the manager what he feels is right for the team."
Shawcross, born in Chester, qualifies for Wales having spent five years of compulsory education in the country and previously represented Welsh Schoolboys.
The 2009 rule change allows any player from Great Britain or Northern Ireland to play for any of the home nations as long as he has spent five years of compulsory education in that country.
But the 24-year-old former Manchester United trainee stated in 2011 he had no intention of playing for Wales, preferring instead to attempt to make his way into the England squad.
Meanwhile, Ramsey believes Wales and Great Britain Olympic team-mate Joe Allen will settle in well at Liverpool after his move from Swansea City.
"I've played with Joe for a number of years now for Wales. I know all about him and he knows all about me, and we have an understanding of each other," Ramsey said.
"Delighted for him to get his move to Liverpool. He deserved that. He is a great player and hopefully he can do something good there and I think it is a good signing for them.
"I think he is more than capable of handling [the move]. It's a big club but Joe is more than capable of playing for them and he knows the manager there [former Swansea boss Brendan Rodgers]. I'm sure he will get the full backing off him.
"All he needs to do is let his football do the talking and I'm sure he will cope with it easily."