Frank Lampard still waiting for new Chelsea contract talks
Last updated on .From the section Football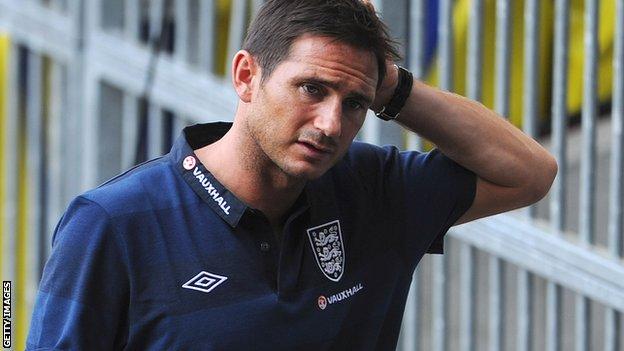 Chelsea Midfielder Frank Lampard says he is still waiting to hear if the club will offer him a new contact.
Lampard, 34, who will captain England in the friendly against Italy on Wednesday, is in the final season of his contract at Stamford Bridge.
"I would like to end my career there," he said. "I feel I can play at the top level for a good few more years, but it's whether the club feels the same.
"At the minute I'm just playing. I'd like to sit down and speak with them."
Lampard claims he has heard nothing since an initial exchange last season.
"We spoke once last season and it was a case of coming back - and it hasn't come back from their end," he said. "I don't know [what will happen].
"I know there are a lot of changes at Chelsea. I'd love to be involved, and the youth coming into the squad this year has really freshened up our team.
"I'd love to carry on but it's a club decision to come and sit down with me. They used to sit down with me three years before the end of my contract. Now I'm waiting."
Lampard says he was revitalised by Chelsea's Champions League win, which came at the end of a season of turmoil and after manager Andre Villas-Boas was sacked by the club.
"It rejuvenated me without a doubt," said Lampard, who came off the bench in 11 of his 49 appearances for the club last season. "It went from being the worst season I had at the club personally, into the greatest season in Chelsea's history."