Roy Hodgson hopes John Terry is 'freed' of FA charge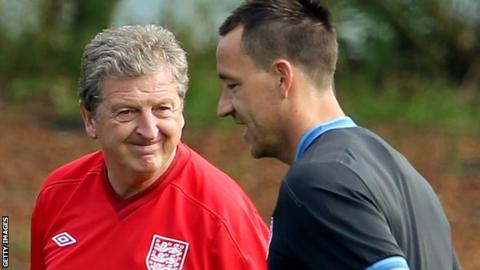 England manager Roy Hodgson says he hopes John Terry will be "freed" of his FA disciplinary charge.
Terry is alleged to have used "abusive and/or insulting words" to QPR defender Anton Ferdinand in a game in October.
Hodgson's comments have been criticised by two prominent anti-racism bodies as inappropriate, given his role.
But the Football Association has assured them the regulatory process Chelsea and England defender Terry faces is fully independent.
Terry, 31, has been charged by the FA over his actions in the Premier League match between QPR and Chelsea on 23 October.
He denied the charge and requested a personal hearing.
"John, hopefully, will be freed as he was freed in a court of law, and will carry on playing for England," said Hodgson.
"That's my hope. What will happen, I have no idea," he added.
The comments provoked an angry response from anti-racism bodies Kick it Out and Football Against Racism in Europe (Fare).
"Hodgson's comments on Terry are foolish," said Fare executive director Piarra Power.
"It is not helpful to the process the FA has undertaken in any way.
"Whatever support Roy Hodgson wants to give to a member of his squad, he also has to remember the FA's wider role."
Kick it Out chairman Lord Ouseley said he was so concerned he had telephoned FA chairman David Bernstein for assurances about the procedure, which will be heard next week.
"[Bernstein] has given me a categoric assurance that the independent regulatory process is free from any influence and is indeed independent."
The FA added: "Further to comments from England manager Roy Hodgson last night, the FA has reiterated that its regulatory processes are independent.
"The England manager, FA chairman or general secretary have no input into regulatory proceedings."
Terry was cleared by Westminster Magistrates' Court of racially abusing Anton Ferdinand on 13 July.
Two weeks later the Football Association charged the former England captain, citing an alleged "reference to the ethnic origin and/or colour and/or race of Ferdinand".
While the Magistrates' Court prosecution had to prove beyond reasonable doubt that Terry had used the words in an insulting manner, the FA operates "on the balance of possibilities".
Hodgson, who spoke on the eve of England's friendly with Italy, was initially careful of commenting on the case.
"I'm not prepared to discuss John," he said.
"It's a matter which is really, as far as I am concerned, working for the FA, sub judice.
"Everything I say can be misinterpreted - as far as I am concerned he has a case to answer with the FA and I'll wait and see what happens."
Hodgson wants to continue using Terry in the England set-up, but concedes any guilty verdict from the FA would raise issues.
"I thought John did well in the Euros and I'd like to keep using him, but this is a case which is way out of my hands. John understands that," he said.
"All I can do like many of his supporters, I suppose, is just hope he gets freed and can continue to play."