Portsmouth: Balram Chainrai pulls out of purchase
Last updated on .From the section Football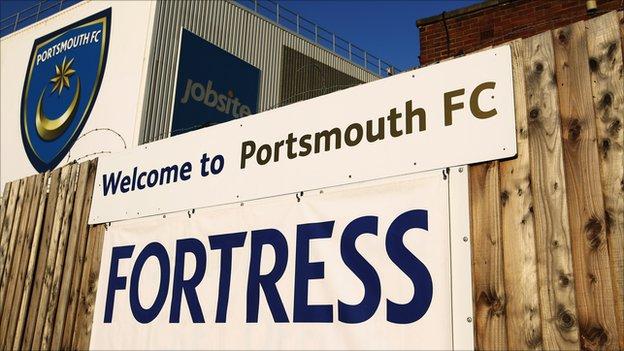 Portsmouth are again facing the prospect of liquidation after potential owner Balram Chainrai announced he had withdrawn his offer to buy the club.
Administrator Trevor Birch had cleared the club's wage bill by 10 August, in accordance with Chainrai's stipulation.
But the club's former owner has pulled out of the purchase, leaving the Pompey Supporters' Trust as the only hope.
"We note Portpin's statement that it has withdrawn its bid for Portsmouth Football Club," said Birch.
Birch added in the statement: "In reviewing the options available to the club, we also note Portpin's offer to support any efforts to save Portsmouth in the forthcoming days.
"We are therefore urgently seeking a meeting with Portpin and the Pompey Supporters' Trust (PST) to determine if the Trust's bid can be brought to a successful conclusion.
"We are working behind the scenes with [manager] Michael Appleton to enable the club to field as strong a team as possible for its first League match on Saturday."
Pompey went into administration in February for the second time in three years after their parent company, Convers Sports Initiatives, had entered administration in November.
They were docked 10 points by the Football League at the time and were eventually relegated from the Championship. The club are said to be £58m in debt.
Chainrai's company Portpin and the PST have been vying for control of the club for several months.
On Monday manager Appleton called Chainrai "unprofessional" after being told his playing budget had been reduced from £4m to £1.5m as promised to him in May.
The Pompey Supporters' Trust have offered Chainrai £2.75m for the club, to include Fratton Park. The Hong Kong businessman has £12m secured credit against the club and owns the stadium.
He had offered creditors of the club two pence in the pound as part of a company voluntary arrangement, something the PST have matched.
Fans have already pledged almost £2m and a combination of associate directors and individual 'high net worth' investors another £1m.
Last Thursday Portsmouth City Council agreed a £1.45m bridging loan to the Trust, in the event of a 'commercial' solution not emerging.
"This is the moment we have been waiting for," said Trust spokesperson Colin Farmery.
"Fans need to be ready to come up with the money they have pledged. It is a pivotal moment in the club's history.
"We welcome the fact Portpin have stated they want to help save the club. It is in no-one's interests Pompey are liquidated.
"I am certain Pompey fans, the city of Portsmouth and the wider football family will be able to do what is needed to make Pompey the biggest community club of its type in the UK."
Pompey will start the new season on minus 10 points and on Tuesday fielded a team that included nine youth-team players in the League Cup.